Ange Postecoglou told the one thing he must decide to unleash James Maddison at Tottenham| SolSportHQ


Former Tottenham player Gus Poyet has opened up on Harry Kane's future, James Maddison, Spurs' defence and Ange Postecoglou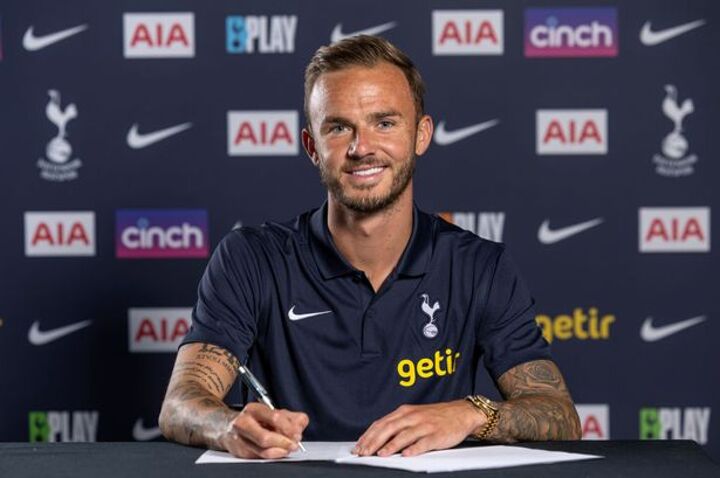 Tottenham have already made some quick moves in the transfer market to ensure that Ange Postecoglou has the right tools to work with ahead of the 2023/24 Premier League season. After clinching permanent deals for Dejan Kulusevski, Guglielmo Vicario and James Maddison, Manor Solomon looks set to be the next player to sign on the dotted line in north London.
"I think the James Maddison signing is very interesting and it will be important to see if he can adapt," Poyet told 888sport. "Last season Tottenham didn't play with a proper number 10, and they played with three in attack, so it will be interesting to see how he adapts to the middle of the pitch.
"If they play with two wingers and a striker, for instance with Son Heung-min or Richarlison, Harry Kane and Dejan Kulusevski, along with Maddison, then the two behind them in midfield have to be two animals because they will need to run all game and defend for everyone, and the back four will have to be outstanding.
"The system will be very important, and I don't know if they will play with four or five at the back. In terms of quality, Maddison will bring plenty and I think it's time for him to make the step up to being a consistent and important player in an important team.
"If I was Harry Kane I would stay in the Premier League rather than going to Bayern Munich," stated the former midfielder. "It will be a massive decision for Tottenham, for Harry, and for everyone involved, and of course, as the coach, Ange Postecoglou would like him to stay.
"There have been so many rumours and so many things happening over the past two or three years so I can't say for sure what is going to happen. I think the only person who really knows is Harry Kane."
Regardless of whether Kane moves on or not ahead of the summer transfer deadline, Poyet feels that Postecoglou will face a tough first 12 months in the Spurs job as he tries to take them forward once again.
"I think the next 12 months will be hard for Ange Postecoglou," he added. "It will be even harder if Harry Kane leaves.
"As a coach it's hard when you get to the club and you have a lot of energy and then they tell you that Harry Kane might leave and you think, 'oh, thank you, but maybe you could have told me before I signed the contract!'.
"I don't know how Postecoglou's finished squad is going to look and how Spurs do next season will depend on the players that they keep and the players that they bring in. There have been so many transfer rumours recently and I'm sure that in the next few days Postecoglou will have his say on those decisions.
Which of the following prospects would you like to see in the first team, or loaned out for experience? Swipe to have your say…