Arsenal face twist in Declan Rice transfer as West Ham 'frustrated' with announcement delay| SolSportHQ


Arsenal transfer news: An announcement for Declan Rice was expected soon, but there's been a delay that is causing some frustration for West Ham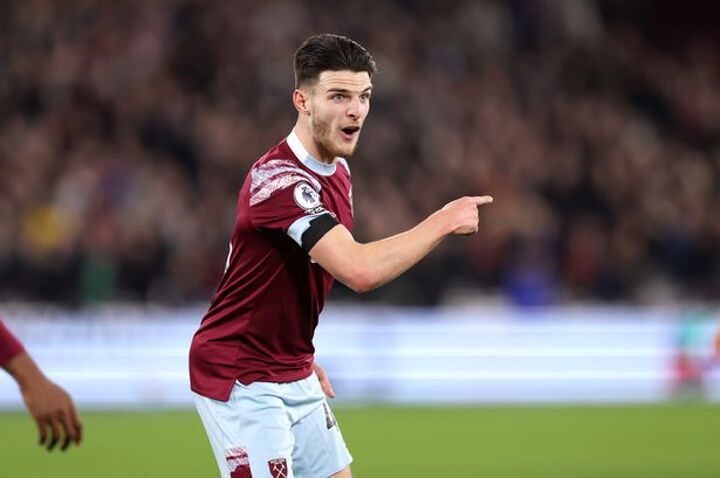 It comes as the Gunners have seemingly won the race to land the England international over their rivals in the summer transfer market. The north London outfit made their move first, lodging £80million and £90million bids respectively, only to have both turned down by the Hammers.
Manchester City then joined the race, looking to add further quality to their central ranks with Rice at the heart of those plans. City made their intentions known with an offer too and whilst it was rejected, the offer was pushing the £100million mark that would see an agreement close.
With the two title rivals staring down a deal, it was Arsenal that made their move and tabled an official offer worth up to £105million. That would see City back out of the race to sign Rice, and while there wasn't a full agreement over the transfer, there was an agreement in principle for the overall fee.
The main hold up in proceedings appeared to be over the instalments, but that was eventually agreed upon too, with a medical that followed. It's now been eight-days since the agreement and since reports of a passed medical, but there's still no sign of an announcement to come.
Rice posted an update on Instagram showing himself training with a host of other stars such as Rafael Leao and Joao Cancelo in Portugal, separate from his West Ham peers. However, back in east London, there appears to be an annoyance at a delay in the transfer being confirmed.
According to Sky Sports, the Hammers are growing "frustrated" with how long the deal for Rice is taking to be confirmed by Arsenal. The current delay is being caused due to lawyers drafting up the paperwork that will legally tie together a deal of such a large magnitude.
It remains to be seen whether this will cause a change in the deal going forward, with patience wearing thin, or if the final touches can be complete in the coming days to get the move over the line.
Which of the following rising stars would you promote or send out on loan? Swipe to have your say