How Declan Rice's move to Arsenal compares with other big-money transfers| SolSportHQ


Declan Rice has become the most expensive British player in Premier League history.
Arsenal have smashed their club record to sign the England midfielder from West Ham, parting with an initial £100million plus a potential £5m to follow in add-ons.
Here, the PA news agency compares the transfer with previous big-money signings.
Most expensive British players
(PA Graphics)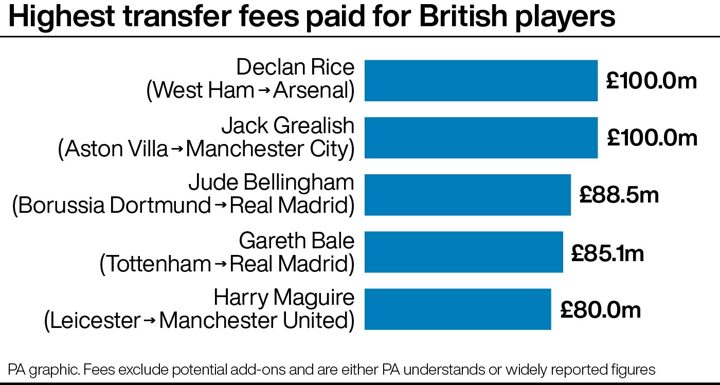 The initial £100m fee paid for Rice is a joint-record for a British player, alongside Manchester City's signing of Jack Grealish from Aston Villa in August 2021.
Jude Bellingham's move from Borussia Dortmund to Real Madrid is next at £88.5m, although this could eventually exceed the Rice deal by rising to £115m including add-ons.
Gareth Bale – in whose footsteps Bellingham will follow by walking out at the Bernabeu – was ranked number one for eight years until Grealish signed for City, with Madrid having paid £85.1m to sign the Welshman from Tottenham in 2013.
Meanwhile, Harry Maguire remains the most expensive British defender of all-time, following his £80m switch from Leicester to Manchester United in 2019.
Highest transfer fees paid by British clubs
(PA Graphics)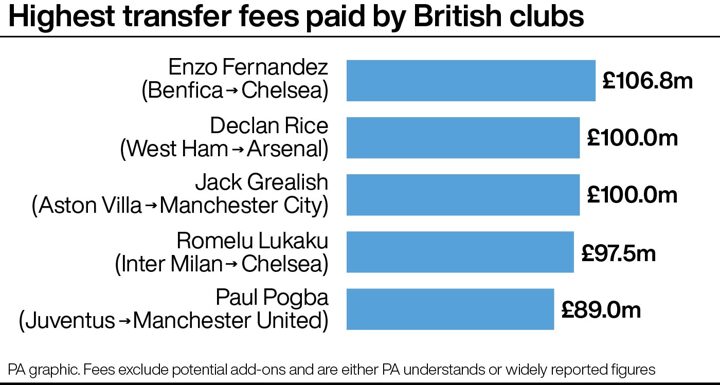 Rice's move from West Ham to Arsenal falls just short of breaking the British transfer record, which stands at the £106.8m paid for Benfica's Enzo Fernandez by Chelsea in January.
However, the Gunners smashed their own record outlay – previously £72m for Nicolas Pepe – to land Rice ahead of Premier League champions Manchester City, who were unwilling to surpass the £100m figure they paid for Grealish two years ago.
The fourth and fifth most expensive buys by British clubs involved re-signing players who were released for a fraction of the price earlier in their careers.
Chelsea almost breached the nine-figure mark to bring Romelu Lukaku back to the club from Inter in 2021, having sold him to Everton for £28m seven years beforehand, while Manchester United spent £89m on Paul Pogba from Juventus having allowed him to leave for free four years earlier.
Highest transfer fees received by British clubs
(PA Graphics)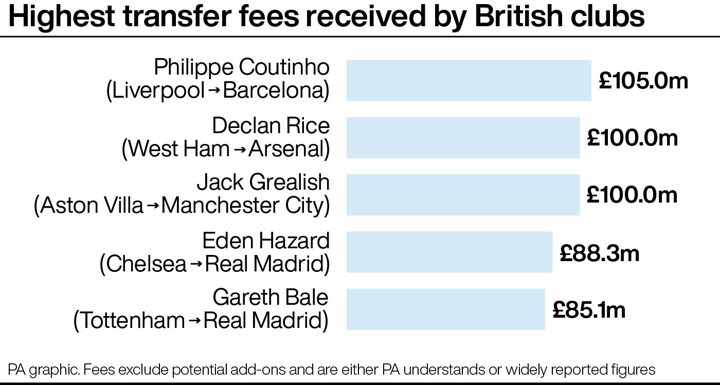 West Ham's protracted negotiations with Arsenal saw them become the third British club to receive £100m or more up front for an individual player.
Liverpool's sale of Philippe Coutinho to Barcelona in January 2018 remains the most expensive in Premier League history, with the Reds receiving an initial fee of £105m and a further £37m in add-ons.
Former Aston Villa captain Grealish, who – like Rice at West Ham – joined the club as a youth player before being given the armband, is the only other Premier League player to attract a nine-figure bid.
The remaining two sales in the all-time top five were both to Real Madrid, with Chelsea's Eden Hazard and Tottenham's Bale going for an initial £88.3m and £85.1m respectively.
Hazard – whose fee was reported to be worth up to £130m including add-ons – became a free agent at the start of July after agreeing to cancel his Madrid contract 12 months early.