Kalvin Phillips opens up on his father's 12-year prison sentence and his Man City travails| SolSportHQ


Lindsay Phillips has moved into her son's house. A nice place in Leeds she is keeping warm while he is living in a penthouse apartment over the other side of the Pennines.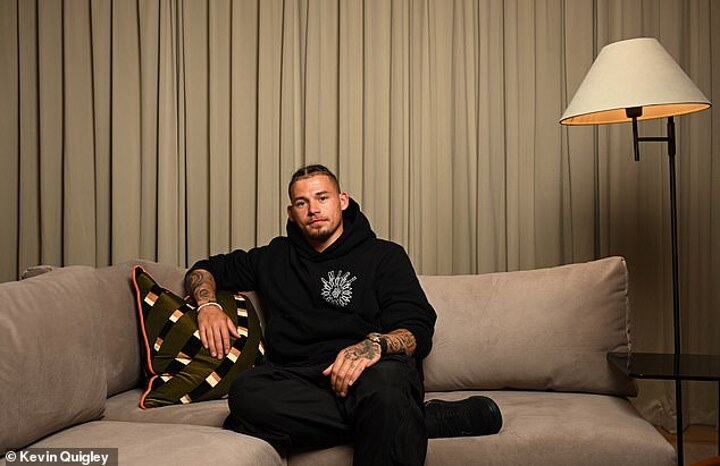 The family expect him to be in Manchester for some time yet, although Lindsay needs a hand with the appliances. The house Kalvin Phillips built is too high-tech; she can't work the touchscreen hob on the cooker or draw the electronic blinds properly.
'I know, I know,' Phillips says. 'It's not even that hard to work out! Press a button and it works. To be fair, I've had a few problems with the blinds. The remote control we've got, the battery is in there and you can charge it but sometimes it dies straight away.'
Phillips is gently ribbing his mum, a woman who brought up four children on her own – working two jobs, one at Macro and Harpo's Pizza – while Kalvin's father, Mark, was in and out of prison.
A history of violence and drug abuse, Mark is serving a 12-year sentence in Wealstun Prison, a short walk from Leeds United's training ground Thorp Arch. Phillips drove past it every day while at the club. As he made memories, became the city's favourite son, his dad sat in a jail cell.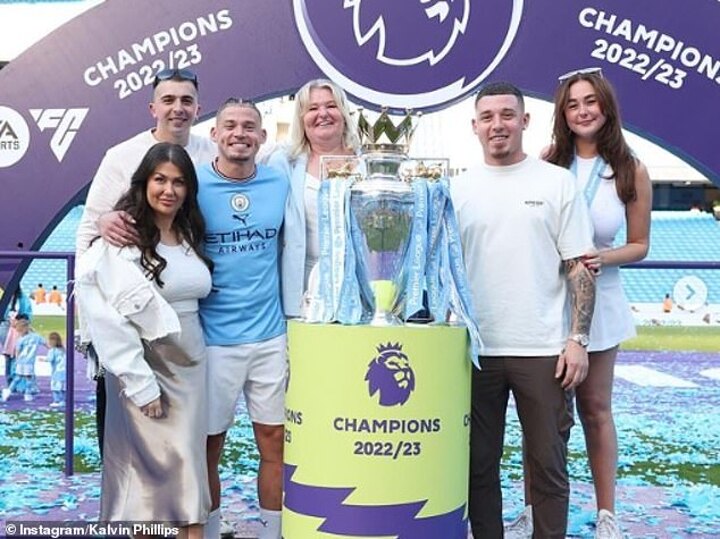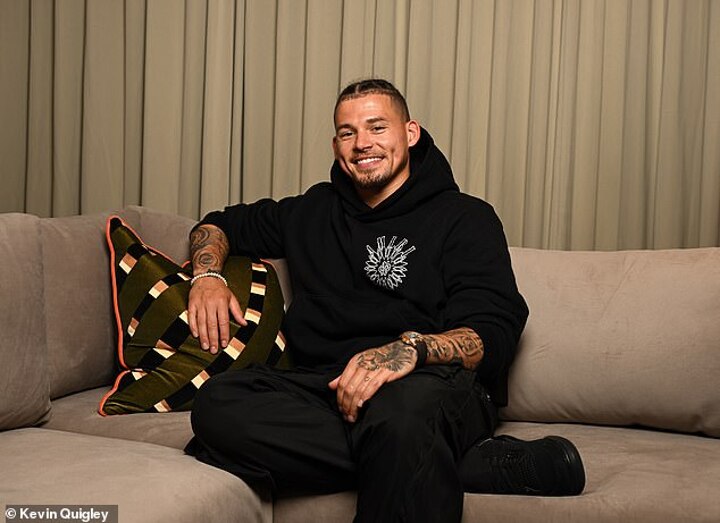 He would never visit but the pair spoke on the phone. Phillips went in a couple of months ago for around an hour and a half.
'I think it was six years since I'd last seen him,' he says. 'It was literally like I'd never been away from him to be honest. He looked a bit older and stuff like that but it was like the last time I saw him. We had a laugh, talked about football, saying how proud he was.
'He feels like he's intruding, because he hasn't been there through our childhood. He doesn't want to take up our time, but I always say if he needs to ring, just call. My dad's one of those people who gets something in his head, like if he's interrupting, or life gets a little bit too much, he'll back away as if he's doing something wrong.
'We'd speak and he wouldn't call for another two or three months. After I visited him, obviously I said to make sure he rings me. He hasn't called since.
'That's just how he feels, that's what he is like. I've never had a problem with the relationship we've had. I'd love him to be out and be in a secure house and be able to come and watch. I'll have to wait.'
Phillips hopes Mark is out within two or three years and it is noticeable in an Amazon documentary on the midfielder's trying first year at Manchester City that the specific crime is not referenced. Mark called his son after games against Chelsea and Bristol City and has one wish when he does finally get out.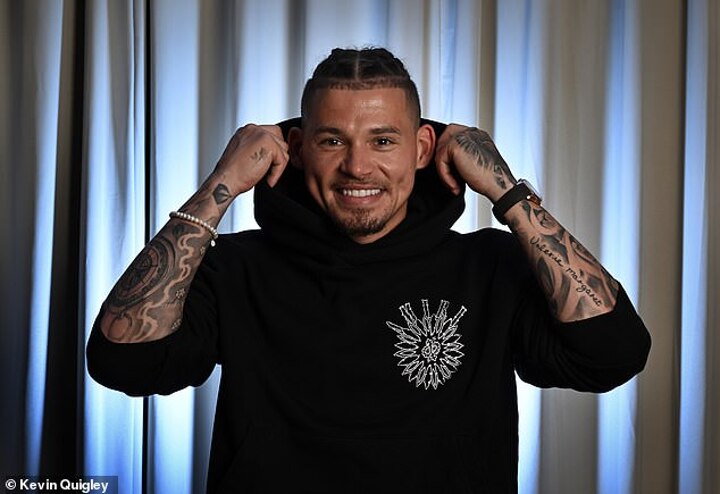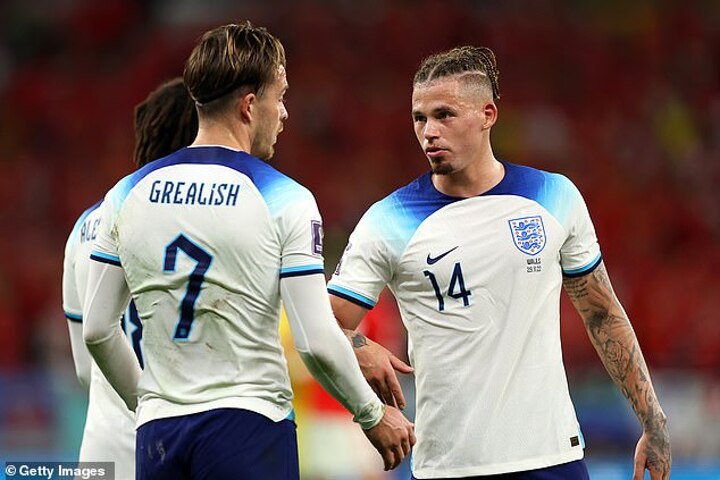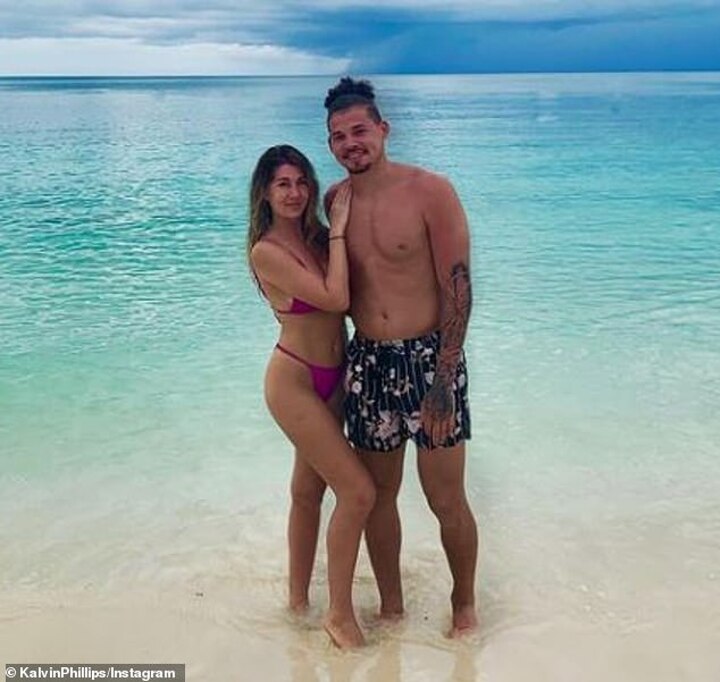 'Obviously I mentioned about looking after him,' Phillips adds. 'To make sure he is secure, so he doesn't go straight back into prison like he has in the past. He could've asked me for anything: for a car, a house, anything. He said all he wants is to be able to travel around the world and watch me play football. That's obviously something I can help with.'
Asia next week for Phillips, in Tokyo as City begin preparations for a Treble defence. He has returned to training earlier than his colleagues, bidding to make up for lost time. The first 12 months were not good, just four starts in all competitions – and no full Premier League debut until the title had been won.
Such was his disappointment in himself, Phillips cried at home after one substitute appearance against Leicester in April, ringing Marcelo Bielsa for a shoulder.
There were times when he blamed himself for recurring shoulder dislocations, wondering if he was eating right, drinking enough fluids or warming up properly. 'Annoyed at myself, I didn't want to let anyone down,' he says.
Then Pep Guardiola called him out for coming back from the World Cup 'overweight'. Breaking into this team will represent some comeback.
Phillips himself had predicted this. Or some of it, at least. He stood in an enchanting Houston ballroom on tour last summer, after securing a £42million move from his boyhood club, admitting that the switch was risk and reward. His words were: 'I know there will be times I'm pulling my hair out because it is so difficult but that is what I wanted.'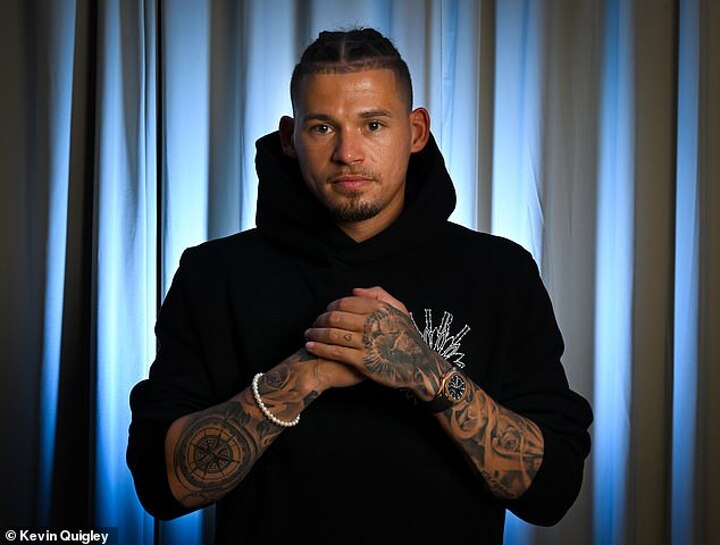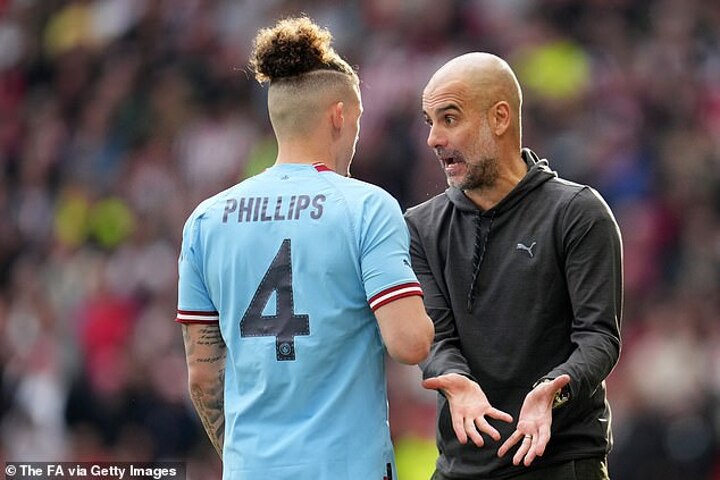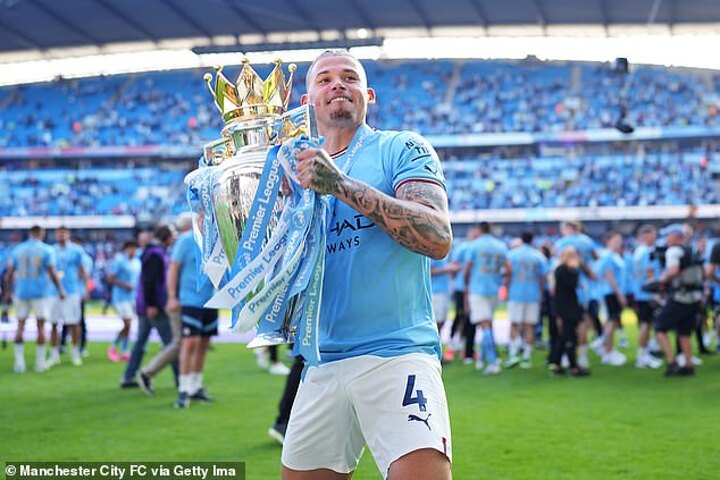 It's a wonder the 27-year-old has any hair left. 'I basically knew,' he says. 'I knew I wasn't going to walk into a Man City team, a Pep Guardiola team, and say: "Right, I'm here". I've come from Leeds, a team that just escaped relegation.
'It doesn't work like that, especially in Pep teams. He's always rotating – other than Rodri, who played every game!'
Phillips smiles at the irony. 'You know what it was as well? Just the pressure the club was under. Arsenal had an incredible start, we had to catch up.
'We were playing every few days so didn't have much time to train. It's hard to put yourself in the manager's thoughts. You're only training for 45 minutes because the lads are so tired.
'What I didn't realise was how hard it was going to be in pre-season. It's all ball work really, but it's all short and sharp. When I was at Leeds with Bielsa, we were running around the track. I was getting used to that because we'd been doing it for two years. I came here and it's all short, sharp and tight spaces. The technical ability of every single player here is unbelievable.
'I was really nervous. I thought maybe it'll be a little bit cliquey but it's never been the case. There is not one person in that dressing room with an ego that makes him think he's better than everyone else.'
Phillips dislocated his shoulder in a friendly against Barcelona. He had the injury a year previous, believing it had healed fully. It had not. Leeds popped it back in at the time and Phillips did the same after Barca, only for it to go again a fortnight later.
Guardiola pulled him into his office to say surgery was the only option – particularly if he wanted to feature at the World Cup – and that while City were frustrated, they would wait.
So the 'overweight' stuff displeased Guardiola greatly, something he announced in the Press without the player's knowledge. Phillips had been told not to train for a couple of days in December because he was two or three kilogrammes over his weight.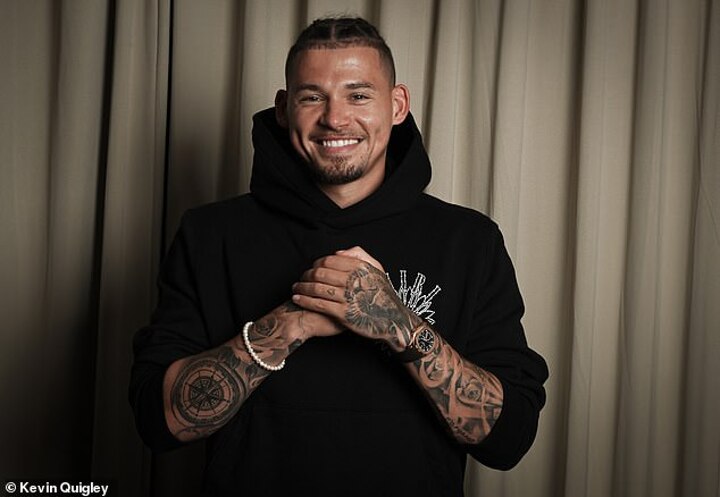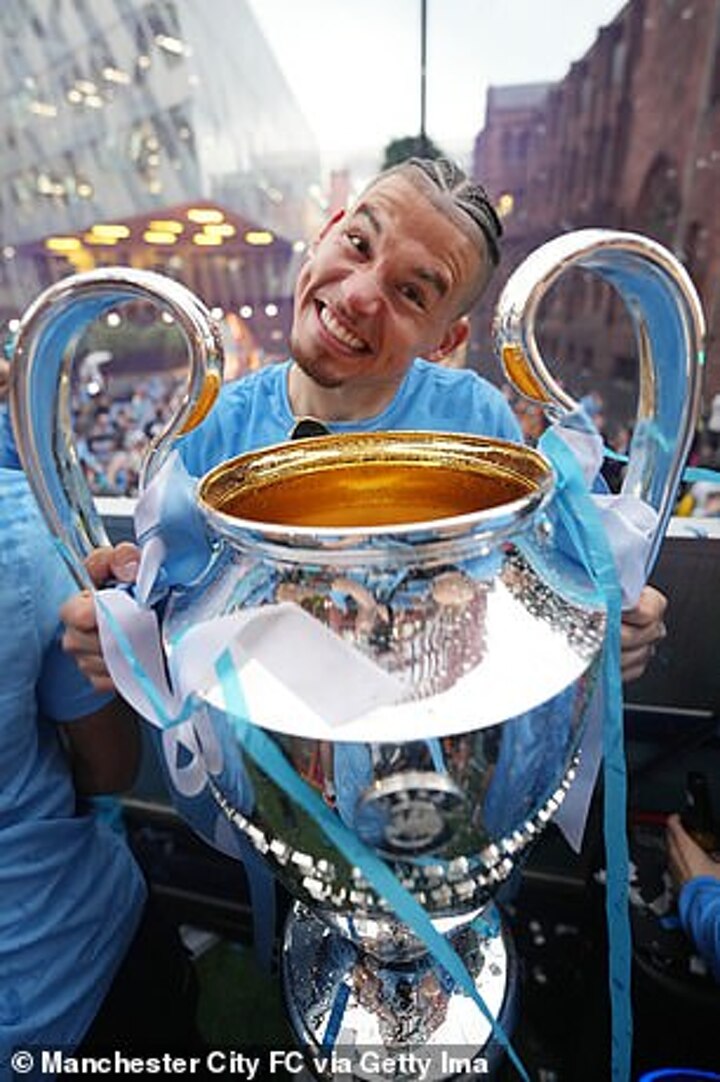 'Listen, the manager said what he said,' Phillips says. 'I agreed with that because I'm not going to turn around and say he's wrong. I don't think that's the right thing to do as a player.
'It was looked into a little bit too much [from the outside]. It doesn't faze me, anyone can say anything about me. I just look at it and laugh. I'm the footballer and I'm living my dream, doing the thing I love. If someone wants to say something about me then that's fine.
'I'd gone to New York for three or four days after Qatar. I'd flown all day. I'd had breakfast, lunch, dinner and landed. Slept during the flight as well. And straight into football. I'd had a full day of eating. There is water retention and stuff on a flight. It was a misunderstanding really.'
What should not be misunderstood is the England international's absolute determination to make it at the Etihad Stadium. He has been unwavering with that, even as City weighed up the idea of signing Declan Rice. His long-term girlfriend, Ashleigh, suggests in the documentary that he needs another year to prove himself. Phillips does not necessarily go along with the idea.
'I signed a six-year deal,' he says. 'The first year at City is always the most difficult. It's been like that for quite a few. My main target this year is to definitely play a lot more and hopefully that does happen.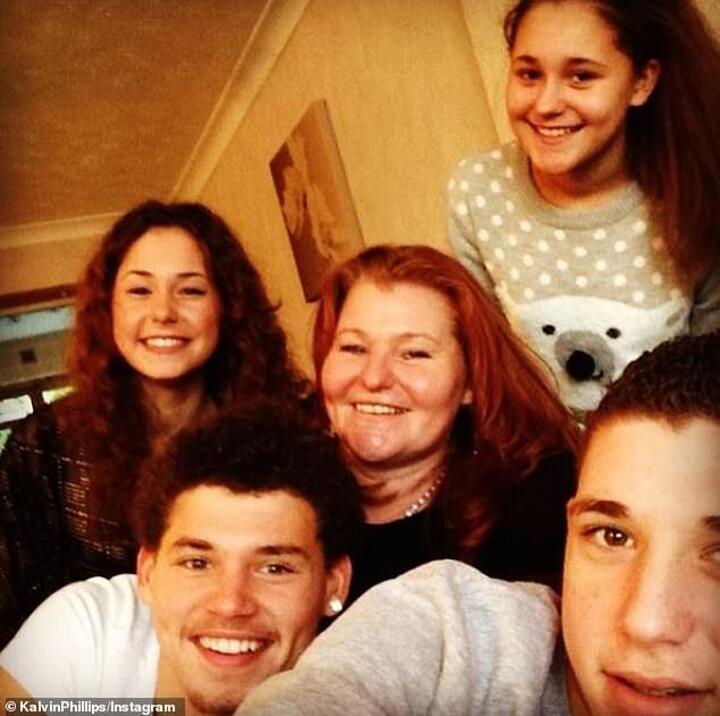 'Leaving Leeds was such a big decision. Mum said that I felt like I was being disloyal. I said to her I don't know what to do because if I leave, am I hanging Leeds out to dry? If they get relegated, is that my fault? Are the fans going to accept it?
'If I was going somewhere, I was going to make sure I try my best and stick it out for as long as possible. Going to City is probably the best decision I could've made. One hundred per cent I am a better player now.
'I see the game completely differently to 12 months ago and that's because of the manager. It's hard to explain but I see it so differently to what I used to see. I'm looking for different things now.
'We've just won the Treble, so there's literally no reason for me to leave. Even though I've not played, I've had some of the best experiences of my life. I'm a City player.'
Kalvin Phillips: The Road to City launches on all territories on Prime Video 19 July.