Mikel Arteta has 3 key Arsenal priorities after Rice and Timber transfers to challenge Man City| SolSportHQ


The Gunners have gone a long way to closing the gap with Manchester City with their activity in the transfer market so far, but there are still a few things that Mikel Arteta must solve to claim Premier League success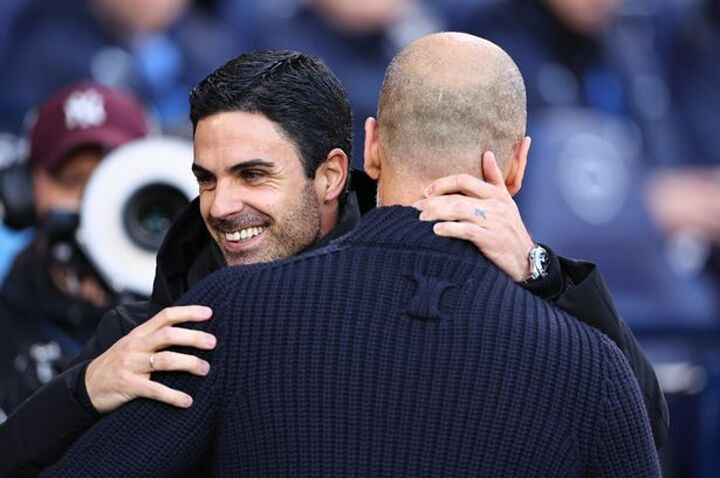 It's a very exciting time for Arsenal right now. The Gunners have started the transfer window with real intent as they seek to build on last year's unexpectedly excellent season.
These are positive steps as Arsenal seek to close the gap with Manchester City last season. There was only a five-point difference in the final Premier League standings, but if the Gunners are going to close that gap there is still a little more that they need to do.
This might seem strange for a side that struggled for depth at points last season, but slimming down the squad has to be a priority for Arsenal. If you look towards the example Manchester City have set, they have gone for a quality over quantity approach to squad building.
Pep Guardiola likes to have two players who compete strongly in every position, with three goalkeepers. This is more or less where Arteta would like to take the Arsenal squad.
With the arrivals of Havertz, Timber and Rice it seems they are heading that way, but Arteta will not want a situation where he has unhappy players around London Colney.
Again, this might seem like a strange one. Arsenal have just run Manchester City close for the title and many have suggested that the difference between the two sides was up top.
Erling Haaland came in and scored 52 goals. Arsenal improved up front, but they do not have a proven goalscorer who can do that. Gabriel Jesus is never going to be that guy despite all his many strengths. Still though that is not the biggest issue for the Gunners.
Instead it might be safer to take a look at the defence. Jesus himself has pointed to the disruption in the backline caused by an injury to William Saliba as the primary factor in the collapse of Arsenal's title challenge.
"When he plays, we concede few goals, when he doesn't play, the number (goals conceded) increases," he said. "When I got injured, Eddie replaced me very well. Then we signed Leo (Trossard). We kept the pace.
"But when Saliba got injured, it was complicated. The other defenders are good, but we were playing in a certain way. Look at the stats we concede a lot less with him."
The reality is though that Arsenal's defensive issues were starting to appear before Saliba's absence. In the games running up to the Frenchman's injury against sporting they kept just three clean sheets in 11 matches. Arteta even went so far as to admit his side were conceding too many goals. This is something that needs fixing.
Arsenal did a great job in keeping up with the blistering pace that Manchester City set for most of last season. The reality is though, if you want to win the Premier League, then you can't give Pep Guardiola's men a six-point swing.
That's what happened last season as the Gunners lost both of the head-to-heads with their title rivals. The first was a closely fought match decided by an unfortunate error from Takehiro Tomiyasu and the profligacy of Eddie Nketiah. The second, however, wasn't even a contest as Arsenal were hammered 4-1.
This is something they'll need to change going forward. Last season their record against the big six was superb. However, they need to find a way of taking points from City which is something they haven't managed at all during Mikel Arteta's time in charge of Arsenal.