players, profiles, stars| SolSportHQ


The lowdown on every member of the Panama squad for the 2023 FIFA Women's World Cup in Australia and New Zealand.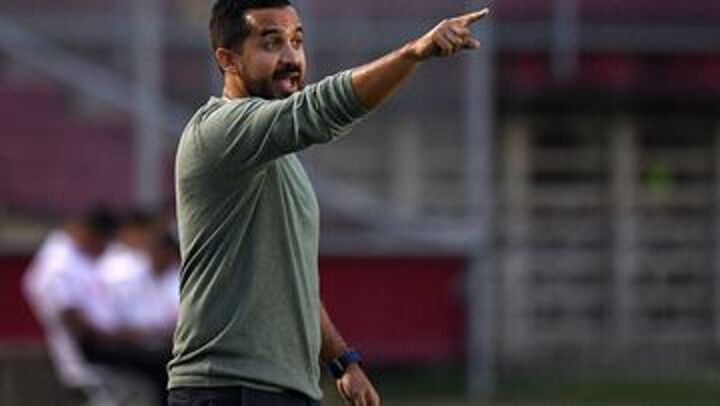 As part of a collaboration with the Guardian and other leading newspapers from each of the World Cup's participating nations, we bring you an in-depth guide to the Panama squad for the upcoming tournament.
Goalkeepers
Farissa Córdoba
Date of birth: June 30, 1989
Club: Ñañas Club
The goalkeeper was one of the last called up to the squad – edging out Stephani Vargas as the likely third choice – and something of a surprise as she wasn't part of the play-offs squad in February, or the friendlies in mid-June. However she does have experience within the national setup, having played in the 2018 Concacaf Championship and the World Cup qualifiers that finished a year ago. Graduated from Panama's metropolitan university of science and technology in electrical engineering and also from the technology university of Panama in mechanical engineering, so it is no surprise to hear her nickname is "the engineer".  She has also played in Guatemala, Costa Rica and, more recently, Maccabi Holon in Israel. When Panama qualified for the World Cup she wrote: "I applaud my colleagues who fulfilled the dreams of past generations." She can now live that dream in New Zealand and Australia.
Yenith Bailey
Date of birth: March 29, 2001
Team: Tauro
She played as a midfielder until 2017 when Víctor Suárez, the current head of youth football in Panama, persuaded her to start playing in goal and she hasn't looked back. In the Concacaf W Championship of 2018 she won the Golden Glove – age 17 – for best goalkeeper of the tournament with 24 saves, including a string of stops against the United States. None other than the US great Hope Solo singled her out for praise that summer, saying she hoped Panama would reach the 2019 World Cup because Bailey deserved to be there. It didn't happen then, but she will be there in Australia and New Zealand. "That tournament made me realise I could be a professional," Bailey said. She has had stints in Colombia and Paraguay, where she played in the Copa Libertadores. Her brother José Gonzales has played professionally. A favourite of the fans for her whole-hearted efforts.
Sasha Fábrega
Date of birth: October 23, 1990
Team: CA Independiente
Decided to finish her studies before dedicating herself totally to football and she graduated as a physiotherapist, something that naturally helps her in her current profession. Her Instagram feed is full of punishing workouts as she gets ready for the World Cup. Fábrega, who made her national team debut in January 2020 against the USA, was at Tauro in Panama but a lot of competition meant she moved to look for more first-team football at CAI, one of the best clubs in her country. And she doesn't need to look any further than home for her biggest supporters. "My parents are the most important people in my life. They guide me to be better every day, their support is unconditional and they encourage me to pursue my goals and dreams. They make me feel loved and greatly valued."
Defenders
Katherine Castillo
Date of birth: 23 March 1996
Team: Tauro
One of the few in the Panama team to have played in Argentina, an experience that helped her improve a lot in her position as a full-back. She can get forward and adds an attacking threat in the air in the opposition's penalty box. She is one of the manager's most reliable players and gives peace of mind to her fellow defenders, having made her debut in the senior team in 2018. She attributes her success in football to several things, including a four-legged pet. "The important people in my life are God, who always gives me the strength and desire to move forward, and, above all, my partner, who has been encouraging me at every moment since day one. And I also want to mention my little dog, which is the most precious thing I have, and my family."
Rosario Vargas
Date of birth: 9 August 2002
Team: Rayo Vallecano
One of the youngest in the squad but with an interesting career already, having played in youth teams in Madrid and Valencia. She also had a spell in Costa Rica in the 2017-18 season, although she now plays for Rayo Vallecano, another Madrid-based team. At national level, she was in the squad for the Under-20 Concacaf Women's Championship, where Panama were knocked out in the quarter-finals by Canada. But by then she had already attracted the attention of the senior team and she made her debut in Tokyo in a friendly against Japan in April 2021 (sadly a 7-0 defeat). For her the World Cup will be an incredible experience. She said: "I'm psyched up for New Zealand. From everything that happens in life we must learn to get the positive and make ourselves stronger and continue to grow."
Hilary Jaén
Date of birth August 29, 2002
Club: Tauro
From a family of Panamanian singers, Hilary instead put her efforts into football – playing on concrete pitches with her cousins – and she quickly showed she was a precocious talent, being the only girl in a team when she was seven years old. "That was a good experience," she says, "because you achieve more. I had to raise the intensity of my game." She began to represent her country and moved through the various youth levels before making her debut for the senior team in 2018 in their last World Cup qualifier. She studied business administration and has already gone through the university leagues in the USA, playing for South Alabama Jaguars and Jones County Bobcats, although she is now with Tauro in her home country. "Studying is a very important part of my life because I want to show that you can study and play at the same time."
Carina Baltrip-Reyes
Date of birth: July 1, 1998
Club: Maritimo
She started playing football at the age of three when her father gave her her first boots and from there she never looked back. The defender, who can play anywhere across the back, currently plays for Maritimo, on the Portuguese island of Madeira. But her career in Europe started in the Serbian league with Spartak Subotica, where she stayed for four months, gaining Champions League experience, but she left in December 2021, moving on to Houston Dash in Texas. She played her first match with the national team in October 2021 against Trinidad and Tobago. Full of energy, she can make powerful runs from her own area all the way up either flank. Born in Austin, Texas to a Panamanian father and American mother, she studied in Florida, where she graduated in biology and then received a master's degree in sports administration.
Rebeca Espinosa
Date of birth: July 5, 1992
Team: Sporting San Miguelito
Her sister Marjorie was the person in her family who taught her, age 11, to play in her home province of Chiriquí, but she never forgets her late brother, Riquelme. "He is my reason to fight for my dreams," she says. Today her husband is the support: "Ever since I've known him, he has always backed me unconditionally and has understood what this beautiful sport means to me." She played in Paraguay, for Club Sol de América, where she ended up facing her compatriot, Yenith Bailey, in a decisive league game – "it was beautiful," says Espinosa. She made her debut with the national team in October 2018 in a World Cup qualifier against Canada but was on the losing side. Now, facing up to finally playing in the tournament, she looks back on how far the team has come. "These are the second chances we get in life," she says. She is one of Nacho Quintana's most important players and was part of the back five in the historic playoff win against Paraguay in February.
Nicole de Obaldía
Date of Birth: March 16, 2000
Team: Herediano
Well-known in her country, not only for her football but also because of her presence on social networks and, because of her high profile, being sponsored by big brands. She joined Chorrillo FC in Panama City where she matured as a player and then moved to Tauro, the biggest team in women's football in Panama. She won the league and then joined Plaza Amador, Tauro's arch-rival, for a season before going to play in Costa Rica, where she has also won the league. At national level, she has worked her way up through all the youth categories and made her senior team debut on 21 September 2021. Pinki, as she is known by her friends, is working her way to qualify as a football coach and she has a very clear message: "I tell all the girls, don't give up on your sports dreams and never stop studying."
Wendy Natis
Date of birth: August 19, 2002
Team: América de Cali
Grew up playing volleyball, basketball and wrestling but only took up football when she was 16. Still, despite her age and relative lack of experience, she is already one of the most important players in the team. She was in the Under-20 CONCACAF Women's Championship team in 2022 that reached the quarter-finals. She had made her senior debut by then already, in February 2021. She was back playing for the seniors in the 2022 CONCACAF W Championship that served as a qualifying tournament for this World Cup. When it came to the play-offs earlier this year, she was a rock at the back, playing both games, as Panama did not concede a goal. Nicknamed the Wall, she has been vital for her club as well, becoming the first Panamanian to win the Colombian women's league. "Respecting my teammates with whom I lived and respecting the rules of the club made it easier for me to adapt in Colombia," she says.
Yomira Pinzón
Date of birth: August 23, 1996
Team: Saprissa
Nicknamed 'Yomi', the centre-back has been playing in Costa Rica for two years now after a foray to Spain with Pozoalbense. In between that she returned home to pick up two league titles with Atlético Nacional. She made her senior international debut at the age of 21 in 2017 and has been a regular under the current coach, Nacho Quintana. Reaching the World Cup, she says, was "a meant a lot of happiness and emotion. This was a dream for me and my teammates." Says her family are incredibly important to her: "My parents are always there and will always support me, like my sisters, they are the most important people in my life. And my brother: he is very special to me: I play football for him. I want to dedicate qualifying for the World Cup to him."
Midfielders
Marta Cox
Date of birth: 20 July 1997
Team: Pachuca
From a neighbourhood in Panama City called Chorrillo, Cox is the captain and the respected leader of the Canalera and that is why at almost 26 she already has more than 50 caps. She has played in Colombia and Costa Rica and became the first foreigner to play for Pachuca when she signed two years ago. From midfield she pairs her playmaking with an eye for goal – scoring a spectacular bicycle kick in the 2-0 playoff semi-final win against Papua New Guinea in February – and is not afraid to shoot from distance with her powerful left foot. She says: "I realised since I was very young that I could be a footballer, even if not a pro. But I never stopped pushing my sporting boundaries and I think that is what has made me who I am today." She has set her sights on even greater things at club level. "I want to be among the best and play in an even more professional league. Then I can prepare myself for university and have my own business."
Carmen Montenegro
Date of birth: December 5, 2000
Team: Sporting San Miguelito
A very skilful young player who was part of the group that won the play-off final in February despite her limited international experience. Yet she was on the outside looking in a year ago, a ready deputy in case of an emergency. That was a time when she put in a lot of effort, waiting for her chance. That came when Nacho Quintana tried her out in midfield and it was a revelation, as she had been a striker up to then. "I feel really good in this position," she says. "And I've improved physically as well as technically." She took up the game when she was 12 but preferred baseball when growing up. She studies physical education and wants to work in sport when she stops playing. Her middle name is Milagro, which means miracle.
Schiandra González
Date of birth: July 4, 1995
Team: Tauro
Started out on the right-wing but under the national coach Nacho Quintana she moved centrally and deeper to play as more of a midfield ball-winner. She has a long history with her national team, playing in the 2012 Concacaf Under-17 Championship, and making her debut with the seniors in March 2018 against Trinidad and Tobago. Playing for her country is something she never takes for granted. "It is very big what I am living. It is a dream that I never imagined would touch me. I want to fulfill it with all my might, for myself and for the whole country. I really like the group, it is very happy and focused at the same time." Born in the western province of Chiriquí although raised in Panama City,she calls her dogs "her daughters". They play a big part in her Instagram feed, including giving them ice lollies.
Emily Cedeño
Date of birth: November 22, 2003
Team: Plaza Amador
She took up the game when she was three and a few years later began to play futsal and by the age of 14 was playing for Panama's Under-15s. Her parents supported her all the way, telling her to strive hard if she wanted to succeed. "The dream I had when I was a little girl playing with friends in the street, I'm able to say I've achieved it now," she says. "I hope I can be an example to all those young boys and girls." She did not feature in the qualifiers in the summer of 2022 but was then called up for all the mini training camps in the buildup to the play-offs in New Zealand in February. She made her debut with the senior team in a friendly in October 2022. And now: "I'm going to play in Panama's first World Cup – it is something that I could not believe."
Aldrith Quintero
Date of birth: January 1, 2002
Team: Alhama FC
Quintero earned a place in this team, as she puts it, for her daily work and her improvement since she moved to Europe, first playing for Tenerife and now with Alhama FC in Murcia. She is the first woman from her country to play in Spain's first division. Her father and brother played in a team called Tierra Firme in the lower leagues in Panama. Her mother Laura Marie was her motivation and the person who took her to all the training sessions as a child. First though, athletics was her main sport, especially long jump, but she complained to her mother about doing it. Her mother once told young Aldrith that she didn't know how to play football but changed her mind after watching the girl play. Something of a prodigy, she made her debut in the national team in December 2017, one month shy of her 16th birthday. She said reaching the World Cup "was her dream come true as a girl".
Deysiré Salazar
Date of birth: May 4, 2004
Team: Tauro
She is one of the youngest and smallest in the national team but with a giant heart. Born in Rio Alejandro in the province of Colón, where José Fajardo, a striker for the men's national team, also comes from. She started playing at the age of six and soon her love for football was noticeable. Her mother Amayansi said that she had to look for her because she only spent her time out on the pitch, although she never neglected her studies. She currently plays for Tauro and at only 17 was the best player in the championship, while she has also been captain of the Under-20 team. For her, football is freedom. "When I play football I feel like a fish in water, I am free, I forget about all the problems. I am happy. And at that time it was already clear to me what it meant to play for the national team. It is a source of pride and a great responsibility."
Laurie Batista
Date of birth: May 29, 1996
Club: Taurus
Her nickname is GPS, which tells you a lot about the captain of Tauro, the biggest team in the country. She is one of the most complete players in Panamanian football and has played for the national team at every age level. Although the defensive midfielder did not make the squad for the play-offs, she has been recalled since qualification and is one of the players to watch. She admits not being involved earlier this year was the lowest she has felt in her career. She said: "It was difficult not going to the play-offs but it was a joy to see that my teammates qualified. I'm now happy for the call from the coach and I have to work to earn a place." Her reason for getting into the sport? "My brothers, from a very young age. My family is very proud of me for achieving my dreams."
Forwards
Riley Tanner
Date of birth: October 15, 1999
Club: Washington Spirit
Fast and with great ball control, Tanner scored the second goal in Panama's 2-0 semi-final playoff win against Papua New Guinea as they sought to qualify for their first World Cup. Her nickname is Frozen because of her resemblance to Elsa, from the film. Born in the United States but qualifies as her mother was born in Panama, she studied and played in her native Michigan and currently plays in the US professional league. She graduated from the University of Alabama with a degree in public health. She realised she had made instant new friends when she was in her first training camp with Panama in January as she found out she had been picked in the draft by Spirit. She says: "That moment was when my dreams became reality. I took the draft call in the bathroom and when I came out everyone dogpiled me. Being new to the Panama team, just having that support from them was really special and made me feel like I was a part of their team."
Lineth Cedeño
Date of birth: December 5, 2000
Team: Sporting San Miguelito
Wrote her name in her country's football history for her play-off final goal against Paraguay in February. It was the only goal of the match and one that put Panama in the Women's World Cup for the first time. At the age of 22, she has more than 40 caps and has broadened her horizons by playing in Spain and then two years in Italy, for Verona and Sampdoria. Her time with Samp did not go so well, ending eight months early and without a goal or an assist. Affectionately known as "the stick" because of her thin build, she is a penalty-box predator, although due to her speed she can also play on the wings. Always has a smile on her face. Was left out of the squad for the two friendlies in the second half of June as Nacho Quintana decided to look at a few other contenders for the World Cup squad.
Erika Hernández
Date of birth: March 17, 1999
Team: Plaza Amador
When Yomira Pinzón was asked how she would cope for a whole month in February, away from home, for the play-offs, she replied: "We have Erika." Her Panama teammates call her Siri because of the amount she talks and is known as the most upbeat and lively member of the squad. She has played in Argentina, at the Buenos Aires club Uai Urquiza, which she says helped her development. On the pitch she can drop a bit deeper to get involved in the play but she is at her most effective in the box. In addition to playing football, she is studying to be a physical education teacher. She loves social media and has gone viral more than once with her dancing. Sponsors also love her to give talks because of her ease when it comes to communicating.
Natalia Mills
Date of birth: March 22, 1993
Team: LD Alajuelense
La Capi, as Natalia is called, is the veteran of the team who has come out of retirement, having hung up her boots for the national team in 2019 when they did not qualify for the France World Cup. She played in all the youth categories of the Panama national team before making her debut for the senior team aged 20. Her mother has provided her with all the support she has ever needed. She says: "Ask me about an important person in my life I have to mention my mother, Beatriz Urnaga. She is everything to me. She is the one who has always been with me at all times, in good times and bad. She always supports me unconditionally, without judging me." When she does finally retire, she wants to stay in the game and help find new talent so that women's football in Panama continues to grow.
Karla Riley
Date of birth: September 18, 1997
Team: Sporting FC
Her attributes have earned her the nickname "the empress of goal" and she has taken her talents around the world. She went to Pozoalbense in Spain, has played for Tauro in her home country and, in 2022, Cruz Azul in Mexico. She made her debut for the senior team in February 2017 and has more than 30 caps. She believes the team has made the most of their time since they qualified. "We have five months of preparation that we did not have before. Those who play in Panama have worked like never before and have got stronger thanks to the training camps." She has lent her support to all women in football around the world. A post on Instagram had her voice coming from an empty chair, saying: "Does it surprise you not to see me? This is how thousands of players around the world feel. We need you to see us, respect us and support us more than ever. This is our real fight."