Postecoglou makes positive impression on Kane in Tottenham meeting| SolSportHQ


EXCLUSIVE: The new Tottenham Hotspur head coach met his star striker this week after the England captain returned to training at the Enfield-based complex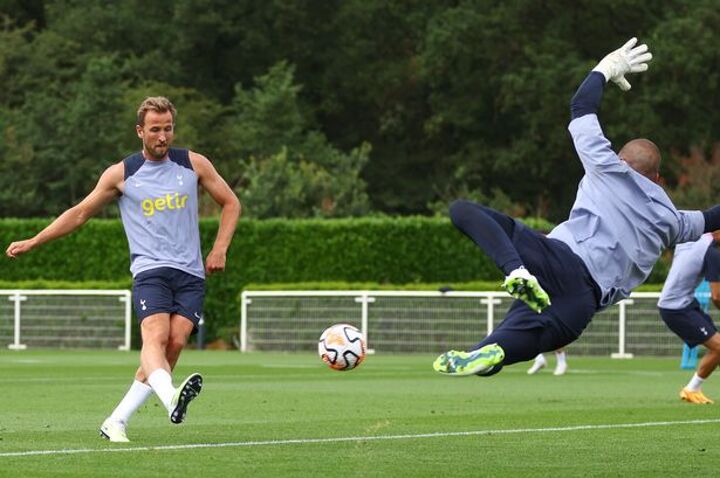 New Tottenham Hotspur head coach Ange Postecoglou has left a positive early impression on Harry Kane, football.london understands.
The England captain returned to Hotspur Way on Wednesday for pre-season work amid speculation surrounding his future. Bayern Munich made an €80million (£68.3million) bid for the striker, which also includes add-ons, although Spurs chairman Daniel Levy is expected to seek far more should he even consider allowing Kane to leave a year before his contract ends.
football.london understands that Postecoglou and Kane's early chats were positive and the duo have got on well since the striker returned to the Enfield-based complex, with the 57-year-old Australian making a positive impression on his star man. Suggestions that the two were set to meet in some big transfer showdown have been played down though, with it believed that these discussions were more just a Spurs player meeting and getting to know his new manager.
Postecoglou made it clear this week in his first press conference that his discussions with Kane, who turns 30 this month, were never going to be about convincing the player to remain at Tottenham.
"I don't think it's my role to sit down and treat people in a manner because of their circumstances. I'm really big on treating everyone the same, and Harry has already entrenched himself in the history of this football club," said the Australian. "He's a very important part. He's one of the premier strikers in the world and I want him involved. My conversation with him will be about how we can make this club successful, and I've got no doubts that what he wants as well.
"So within that context, whatever that narrows into the personal stuff around Harry as an individual. If the conversation takes it that way then we'll take it that way. But I doubt it's going to be defined in the manner that people think it's going to be. It's not going to be a conversation where we walk out of the room and have an understanding.
"I don't want that kind of conversation, what I want is to introduce myself to Harry and give him my vision of the football club. And get a sense from him on what he thinks the club needs to do to be successful and walk out on that training pitch and try and make it happen."
football.london reported last week that Spurs have offered their all-time top goalscorer the opportunity to discuss a huge new contract in order to stay beyond his current deal which ends in 2024. Kane is believed to be in no rush though to commit to a new deal during this transfer window while he assesses what the future holds.
When it comes to Bayern's attempts to sign Kane, Postecoglou added: "Nothing's landed on my desk at this moment from anybody at the club to say there's a decision to be made there. Not even close to that, so because of that I'm looking forward to having Harry here on Wednesday and getting ready for the tour."
Tottenham head off on Friday for their summer tour to Australia, Thailand and Singapore with Postecoglou set to name his travelling squad, which will miss the injured Rodrigo Bentancur, Fraser Forster and Ryan Sessegnon, with Djed Spence and Troy Parrott among those racing to be fit to be included. Some players will be left behind in order to sort out a move away from the club.