[Tour de France 2023 stage 14 LIVE: Tadej Pogačar and Jonas Vingegaard set for alpine duel


Refresh
This looks primed for an attack from Jonas Vingegaard. Still 5.5km to go on the Joux Plane. Tadej Pogačar grabs a bottle and a bag of ice from the side of the road, drops them both, is then handed a bottle from Adam Yates and pours it over himself. It is definitely hotting up… 
Tour de France 2023 stage 14: 18km to go
Sepp Kuss is pacing the leaders up the mountain. Vingegaard and Pogačar locked in the slipstream. 
When will we see the fireworks on this stage? 
A superb ride from the Austrian on Ag2r-Citroen, Felix Gall. He was 14th overall at the start of the day but will shoot up into the top ten by the end of it. 
He was third on the Pyrenean stage to Laruns won by Jai Hindley, if you need reminding. 
Tour de France 2023 stage 14: 20km to go
Just seven riders at the head of the race now. Vingegaard and Kuss, Pogačar and Adam Yates, plus Carlos Rodriguez, Jai Hindley and Felix Gall. 
Simon Yates, Guillaume Martin and Pello Bilbao are 30 seconds back. 
Van Aert is now turning himself inside out. Majka has been dropped and the tables have turned right back into Jumbo-Visma's favour. 
And now Van Aert is finally done. What a ride that was. 
Tour de France 2023 stage 14: 22km to go
Miraculously, somehow, Wout van Aert is riding back up to the front of the bunch! The Belgian was pedalling squares a few minutes ago – dropped and done for the day – but he's now leading the peloton. 
That is quite simply astonishing. 
UAE Team Emirates have been content to sit in the wheels of  Jumbo-Visma all day and they now have the upper hand. Adam Yates is sat alongside Tadej Pogačar as Majka leads on. 
Tour de France 2023 stage 14: 23km to go
Rafał Majka now muscles his way to the front and takes it up. Jumbo-Visma are looking at each other and it the first hints of panic start to appear. Van Aert and Kelderman are out of the back and Jumbo have just Sepp Kuss left. 
Tour de France 2023 stage 14: 23km to go
They're onto the Joux Plane now. 
11.6km at 8.5% await. Wilco Kelderman leads the GC group onto the lower slopes with Van Aert, Sepp Kuss and Jonas Vingegaard behind him.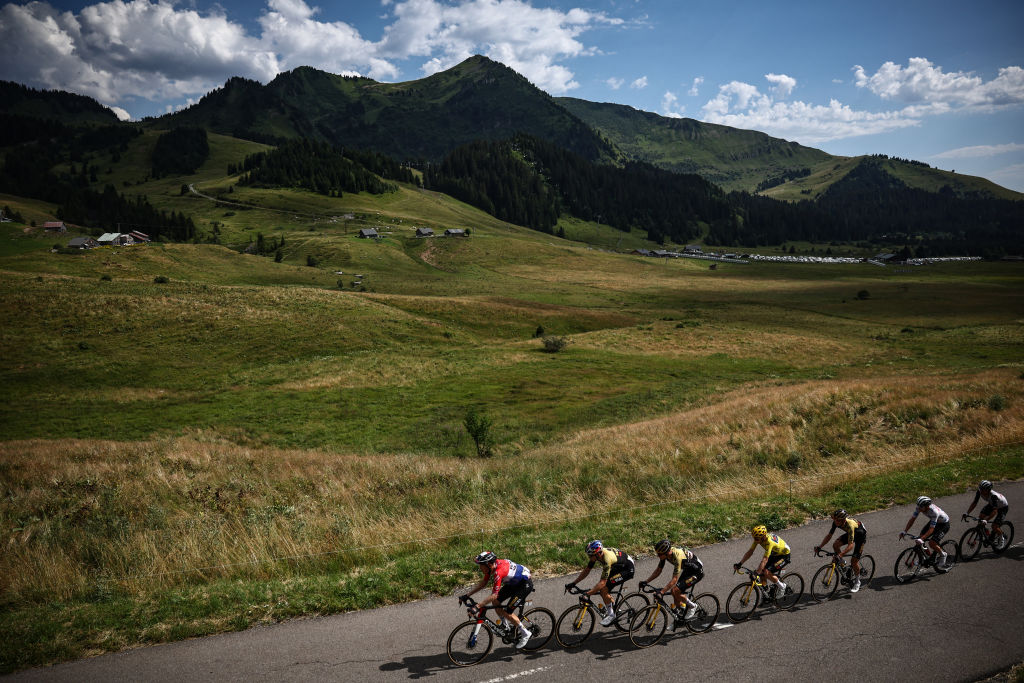 Choo choo! The Jumbo-Visma mountain train steams through the Alps 
Tour de France 2023 stage 14: 28km to go
It's a case of damage limitation for Tom Pidcock now. He is almost two minutes back from the lead group and could see himself slip well down the GC today. 
Tour de France 2023 stage 14: 30km to go
Wout van Aert is making this look so easy but it's full steam ahead. Riders are pouring bidons of water over themselves in an effort to cool off. 
We're back up to 16 riders at the front as the Simon Yates group of four bridges back up after a big chase effort. 
It's a hot climb, the Joux Plane. Riders will be racing up the south facing slope and there's little in the way of forest cover to shade the riders. It rained earlier today, so heat and humidity will be high. 
Jumbo-Visma have totally dictated this stage in an impressive show of strength, almost with total contempt for the rest of the race. 
They have set an attritional pace from pretty much the first climb, grinding down the peloton and neutralising any breakaway before it even began. 
The result is that we're left with just 12 riders approaching the final climb. 
The Pidcock group is now 1-11 behind, with Simon Yates also having lost touch on the descent and sitting 13 seconds back from the Wout van Aert led front group. 
So here's the situation: 
A select GC group is descending the Col de la Ramaz and approaching the final climb of the Col de Joux Plane. 
Jonas Vingegaard should have Sepp Kuss and Wilco Kelderman with him on the final climb, once Wout van Aert has done his final pull. 
Tadej Pogačar will have Adam Yates, Rafał Majka and Felix Grossschartner. 
Jai Hindley is isolated, as are David Gaudu, Guillaume Martin, Pello Bilbao and Felix Gall. 
Carlos Rodriguez has teammate Jonathan Castroviejo for company but Tom Pidcock is still off the back at 30 seconds. 
Simon Yates and Chris Harper are there for Jayco-AlUla. 
Tour de France 2023 stage 14: 50km to go
35 seconds is the gap now, Tom Pidcock fans, over the top of the Ramaz. 
I'd expect him to be able to make that up on this upcoming descent but his weakness on this penultimate climb doesn't bode well for the Joux Plane. 
Twenty-six kilometres of descent and flat approach road follow the summit of the Col de la Ramaz before we hit the slopes of the Joux Plane. 
So, there's still time for dropped riders to rejoin the front of the race but it will be hard work with Van Aert pulling on the front. 
Tour de France 2023 stage 14: 51km to go
Tom Pidcock is fighting with everything he's got in order to stick with this lead group but the gap is starting to open up. Marc Soler (UAE) is also battling to stay in touch for his leader Tadej Pogačar. 
Jumbo are whittling this GC group right down as the gradient of the climb eases across a high alpine plateau. There are 21 riders left at the front here. Wout van Aert hits the front. 
Tour de France 2023 stage 14: 55km to go
Dylan van Baarle is leading the Jumbo-Visma juggernaught as Tom Pidcock is struggling at the back of the GC group of 20 riders or so. 
I am glad to announce that we had a call with @amaurysport, @AigcpOfficial, @UCI_cycling regarding the downhill finishes on stage 14 and 17 @LeTour. ASO will have warning Audio signs well before corners, new ashfelt(which was a main concern for the riders) and barriers with… pic.twitter.com/Bq5WPi8q4vJune 29, 2023
See more
There's been a lot of talk about the downhill finish off the Col de Joux Plane on today's stage. 
Former rider Adam Hansen is president of the CPA, the riders' union. He has worked with organisers to increase safety measures on the descent in light of the crash that claimed the life of Gino Mäder at the Tour de Suisse earlier this year. 
Along with resurfacing the worst parts of the road, organisers have installed signs with audio well before dangerous corners, plus padded barriers next to the large drop-offs. Hansen also went and filmed the descent and uploaded the video for riders to view before the stage. 
Tour de France 2023 stage 14: 58km to go
Bye bye breakaway. Giulio Ciccone is caught by Jumbo-Visma. 
Now what!? 
Tour de France 2023 stage 14: 59km to go
Ciccone goes alone with 9km to the top as Van Hooydonck peels off and hands over to Tiesj Benoot. Woods is caught. 
Tadej Pogačar is glued to the wheel of Jonas Vingegaard. 
Jumbo-Visma are on a mission today. Notable non-climber Nathan Van Hooydonck is tearing up the climb with six teammates on his wheel, massing like angry bees. They have caught all but Woods and Ciccone.
What are their plans today? Why the big effort with over 60km to go? The peloton is down to around 30 riders but UAE Team Emirates and Ineos Grenadiers are all there in numbers. 
Tour de France 2023 stage 14: 60km to go
Woods and Ciccone are now alone at the front of the break on the Ramaz. Six riders chasing at 11 seconds and then the peloton close behind at 27 seconds. 
Carlos Rodriguez, fourth overall at the start of the day, is off the back of the GC group with Michał Kwiatkowski for company. Looked like a mechanical issue rather than a matter of bad legs for the young Spaniard. 
Tour de France 2023 stage 14: 63km to go
On to the Col de la Ramaz (13.9km at 7.1%) now, which the Tour will be crossing for only the fifth time in its history. 
It's a first category climb but there's a nasty kilometre at an average of 12% that comes 4km from the top. 
Bet you didn't know @giuliocicco1 was this ripped 😳 pic.twitter.com/wUKf72ctUOJuly 15, 2023
See more
Nope, Lidl-Trek, I did not. 
Giulio Ciccone (body fat percentage = minus 5) will definitely be one to watch today. He looks like he's on a mission. 
Tour de France 2023 stage 14: 72km to go
The highest GC rider in the break is Thibaut Pinot, 9 minutes off the race lead, but Jumbo gonna Jumbo and the break is still at 30 seconds. 
The break now comprises 11 riders:
Thibaut Pinot (Groupama-FDJ), Guillaume Martin (Cofidis), Mikel Landa, Wout Poels (Bahrain Victorious), Gorka Izagirre, Alex Aranburu (Movistar), Mike Woods, Hugo Houle (Israel-Premier Tech), Giulio Ciccone (Lidl-Trek), Dani Martínez (Ineos Grenadiers) and Alexey Lutsenko (Astana-Qazaqstan).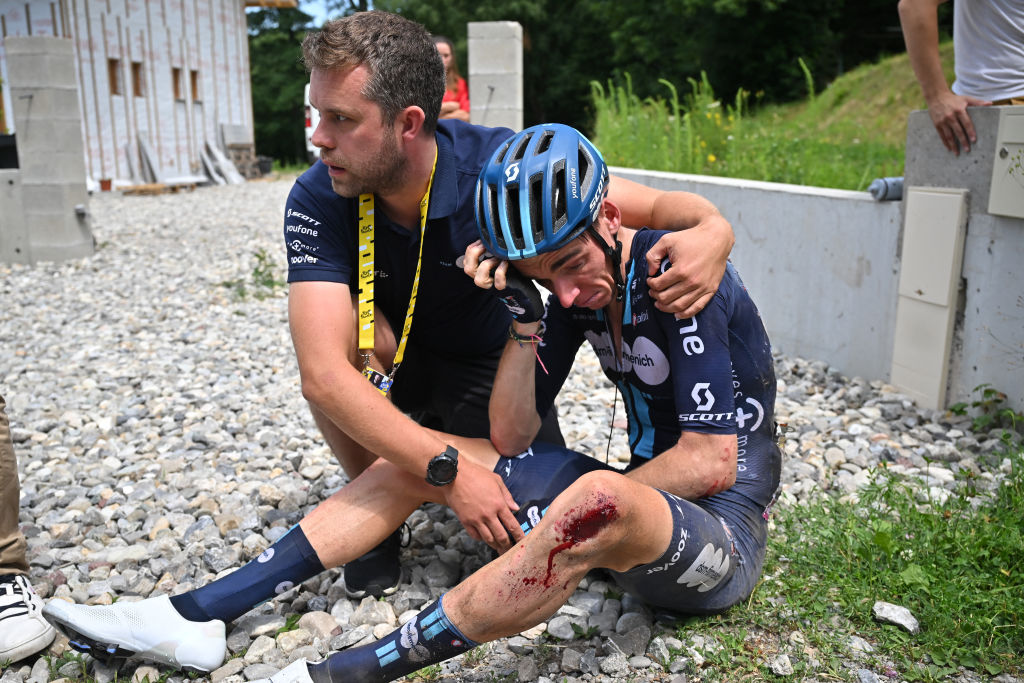 Cycling can be such a cruel sport. 
Romain Bardet is consoled by his manager Matt Winston after crashing out of the Tour earlier today. 
Get well soon Romain. See you back at the Tour soon. 
Tour de France 2023 stage 14: 86km to go
Ciccone leads the race uncontested through the day's intermediate sprint. Which is also on a climb, the Col de Jambaz (it's one of those days). 
The points mean little but that's a cheeky 1500€ for the Italian and Lidl-Trek, there. Not to be sniffed at. 
Tour de France 2023 stage 14: 88km to go
Despite the pedigree of the riders that were up the road, the Jumbo-Visma led peloton look like they are about to bring things back together.
There are a few choice words and a bit of head shaking between the members of the wannabe échappé, but little cohesion. Perhaps their dwindling 20 second lead will sharpen minds… 
⚪️🔴 Classement provisoire après le col du Feu ⚪️🔴🥇 🇺🇸@NPowless, 54 pts🥈 🇮🇹@giuliocicco1, 42 pts🥉 🇸🇮@TamauPogi, 31 pts4️⃣ 🇵🇱@kwiato, 30 pts5️⃣ 🇳🇴@TobiasJohannes1, 30 pts#TDF2023 pic.twitter.com/tUO3BKqp32July 15, 2023
See more
The current KoM standings – Giulio Ciccone shooting up the leaderboard early on today
Julian Alaphilippe is caught by the peloton. The Frenchman was one of the early instigators of the breakaway but couldn't keep with the pace on the early climbs. 
It's not for want of trying, but the former world champion really hasn't been at his effervescent best at this year's race. Soudal-QuickStep really haven't had the best of Tours either. Just two top tens for the Belgian squad, their best result coming from Fabio Jakobsen who got fourth on stage three. 
Tour de France 2023 stage 14: 99km to go
The front of the race is in bits. Mike Woods and Giulio Ciccone are determined to force this move clear over the Col du Feu. Pinot dangles a few seconds back with Mikel Landa. 
Ciccone sprints for 10 more points at the top. 
A well known goat enthusiast, Thibaut Pinot. He keeps a flock of goats (is flock the right collective noun for goats?) at home. Seem to remember you used to be able to purchase goat-themed Pinot merchandise from somewhere or other, too. 
Another fun goat fact – there is a 'goat village' a few kilometres away from today's stage finish town of Morzine. The curious animals roam wild in the little mountainside hamlet of Les Lindarets. Great for selfies and all other kinds of goat related fun. 
Tour de France 2023 stage 14: 102km to go
Now then, could this be the day that Thibaut Pinot fans have been waiting for? 
Riding his final Tour, the French fan favourite is forcing the pace at the front along with Giulio Ciccone, Mike Woods and Juanpe Lopez. 
Neilson Powless moving across… 
Tour de France 2023 stage 14: 105km to go
The breakaway is still in something of an embryonic stage as it hits the foot of the Col du Feu (translation: Pass of Fire). It's just waiting for someone to light it up as the riders start to feel the burn on this climb. 
Gorka Izagirre, Alex Aranburu (Astana) and Tobias Johannesson (Uno-X) are dangling 10 seconds out front. 
The peloton comprises around 60 riders with Jumbo-Visma firmly in control. The green jersey, Jasper Philipsen, is feeling the heat. He and the bigger riders have called gruppetto. 
Keep fighting Adrien ❤️❤️❤️ #TDF2023 pic.twitter.com/oVn3pN1F1PJuly 15, 2023
See more
Tour de France 2023 stage 14: 114km to go
Maximum 10 points for Giulio Ciccone at the top of the Col de Cou but that man Neilson Powless bags 8 more to his total. 
Could be a real shake-up in the KoM competition today: Tobias Johannesson (Uno-X) was third at the start of the day and he's a notable presence at the front of the race. Forty seconds is their gap now. 
Tour de France 2023 stage 14: 117km to go
Yesterday's stage winner Michał Kwiatkowski is also up there trying to make this move stick. Jumbo are holding it at 20 seconds. 
Adrien Petit update: he battles on, accompanied by his team car at the very back of the race. 
Tour de France 2023 stage 14: 120km to go
Jumbo-Visma begin to marshal the front of the main pack as the front runners begin to splinter. Thibaut Pinot, Giulio Ciccone and Neilson Powless are all up there and looking good. 
Confirmation on race radio that Romain Bardet and James Shaw have abandoned the race. That's desperately sad for the race and especially so for Shaw, who looked to have much more to give in his debut Tour. 
Tour de France 2023 stage 14: 120km to go
We now have a large group of 20 or so riders at the front as the race heads up the next climb, the Col de Cou (7km at 7.4%). 
They have a gap of around 20 seconds on the peloton. Many teams represented in there, so this could be the move… 
Hard to say what is behind these crashes but the damp weather has been replaced by hot sunshine, and that horrid combination of wet and dry can make roads extremely treacherous, even for the best bike handlers. 
Tour de France 2023 stage 14: 124km to go
Romain Bardet is down! The Frenchman crashed on the descent of the Col de Saxel and is getting attention from medical staff. He is on his feet but it doesn't look good for DSM's team leader. 
So too is James Shaw! A nightmare day for EF gets worse. 
Tour de France 2023 stage 14: 133km to go
Somehow, after looking pretty dazed in that crash, Dani Martinez has made it up the road and into the break. He led a quintet of riders over the first climb of the day. 
Alongside the Colombian are Julian Alaphilippe (Soudal-QuickStep), Alexey Lutsenko (Astana-Qazaqstan), Lars van den Berg (Groupama-FDJ) and Krists Neilands (Israel-Premier Tech). 
Another sad sight as Esteban Chaves (EF Education-EasyPost), who came off worse for wear in that crash, climbs off the bike and into the open boot of a team vehicle on the side of the road. That will surely be that for his Tour – and another blow for EF. 
Poor old Adrien Petit, who came down in that crash, is hanging out the back of the peloton already. 
There's never a good amount of skin to be on show through torn lycra, but that is a lot of bare skin on display. Allez Adrien, hang in there. 
Tour de France 2023 stage 14: 136km to go
The whole peloton is virtually in single-file as EF Education force the pace and try to bring back a small move that they have failed to get a rider in. 
Lars van den Berg (Groupama-FDJ) is now the sole leader a few seconds up the road. 
They're on the first climb of the day: the Col de Saxel (4.2km at 4.6%). It's been uphill since the gun though, to be fair. 
Tour de France 2023 stage 14: 140km to go
The attacks began immediately after the restart but so far, nothing has managed to break the elastic tying it to the front of the peloton. 
We are absolutely devastated to report that Louis Meintjes fractured his collarbone following a crash early in stage 14 and leaves the Tour de France. #TDF2023July 15, 2023
See more
Confirmation from Intermarché-Circus-Wanty that Meintjes fractured his collarbone in that crash
And after a 20 minute wait, the race has resumed with a 2km neutralised zone before the flag drops again. 
The hold up was for replacement ambulances to make it to the race. 
Louis Meintjes (Intermarche) has also abandoned the race.  
Some slow-mo images from the crash have appeared and it looks like Frederik Frisson (Lotto-Dstny) slipped out on the greasy roads, bringing down much of the peloton behind him. 
Some nasty wounds being bandaged up. Poor old Frederik has a large cut at the top of his thigh but will try to continue the race. 
The team mechanics and sports directors have taken the opportunity to hop out of the team cars and attend to their riders. 
We're still waiting to hear when the race will restart…
Tour de France 2023 stage 14: 145km to go
Not sure what exactly caused that crash but it happened as the peloton was flexing under the pressure of moves off the front. Wet roads, as well, out there in the Alps. 
Antonio Pedrero (Movistar) is out of the race. 
Dani Martinez undergoing a concussion check, it appears. Tom Pidcock is receiving a few dressings to his shin. 
The peloton is currently waiting by a road bridge. Tadej Pogačar is sat on the side of the road, lost in his own thoughts. Matteo Trentin is perched on the bridge railings. 
Tour de France 2023 stage 14: 145km to go
RACE NEUTRALISED
The race has been paused while the riders who have come down in that large crash are assessed by the medical staff on the race. 
Dani Martinez (Ineos), Louis Meintjes (Intermarche), Ion Izagirre (Cofidis) among some of the riders to require attention. 
Sensible decision by the organisers there. 
Tour de France 2023 stage 14: 146km to go
BIG crash brings down a big chunk of the peloton, with riders all over the place. Riders from a lot of teams are down and requiring attention. 
Tour de France 2023 stage 14: 147km to go
Lotto-Dstny are looking lively, along with breakaway stalwarts Matteo Jorgensen, James Shaw and Krists Neilands. 
It's an uphill start and the front of the bunch is stretching and snapping like raw pizza dough. 
Tour de France 2023 stage 14: 151km to go
Race director Christian Prudhomme pops his head out of his red Skoda, the flag drops, and the attacks start… gently. Simon Geschke and Neilson Powless, among others, make an effort to break free.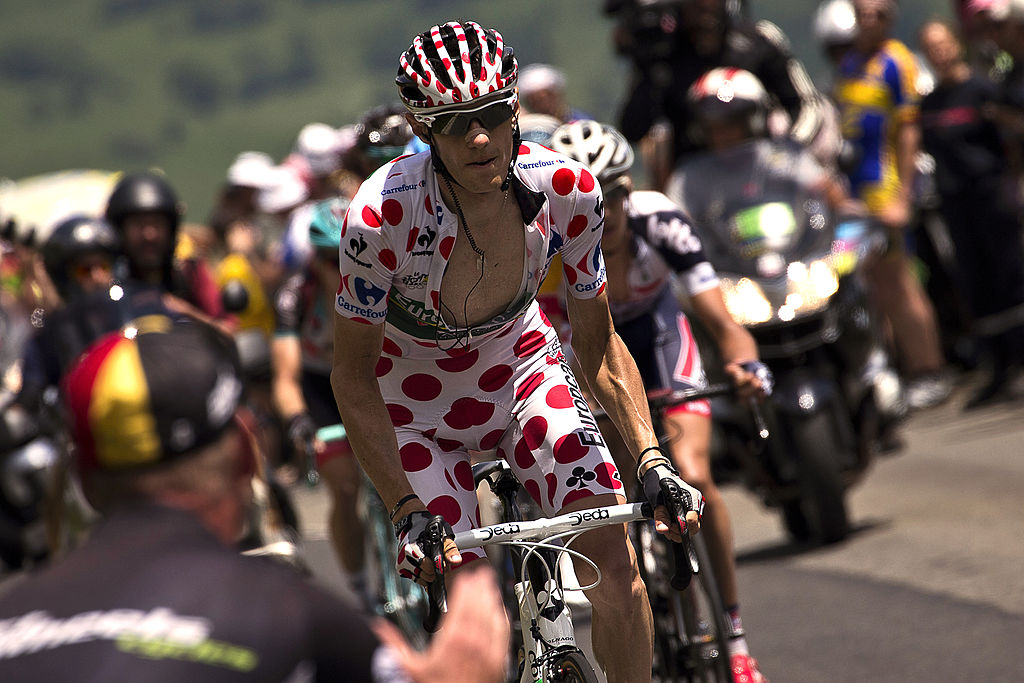 Talking of polka-dots, why stop at the jersey? I'm with Pierre Rolland; if you can make it white with red spots, do it. 
(Powless is in black shorts today, by the way. Boo.)
Tour de France 2023 stage 14: 151.8km to go
The flag has dropped in Annemasse and the riders are rolling out for the neutralised section, which lasts around 15 minutes. 
🗣️ "Les jambes sont lourdes, mais le moral est là ! Je vais tout donner pour garder le maillot aujourd'hui" – 🇺🇸 @NPowless #TDF2023 pic.twitter.com/WEDOLautoSJuly 15, 2023
See more
Neilson Powless (EF Education-EasyPost) is the current leader in the polka dot jersey competition, as he has been since the end of stage one. 
The American has 46 points, however Tadej Pogačar is rapidly coming up behind him on 31.  
Points mean prizes, and Powless really MUST get in the break today if he is to stand a chance of holding that famous jersey all the way to Paris.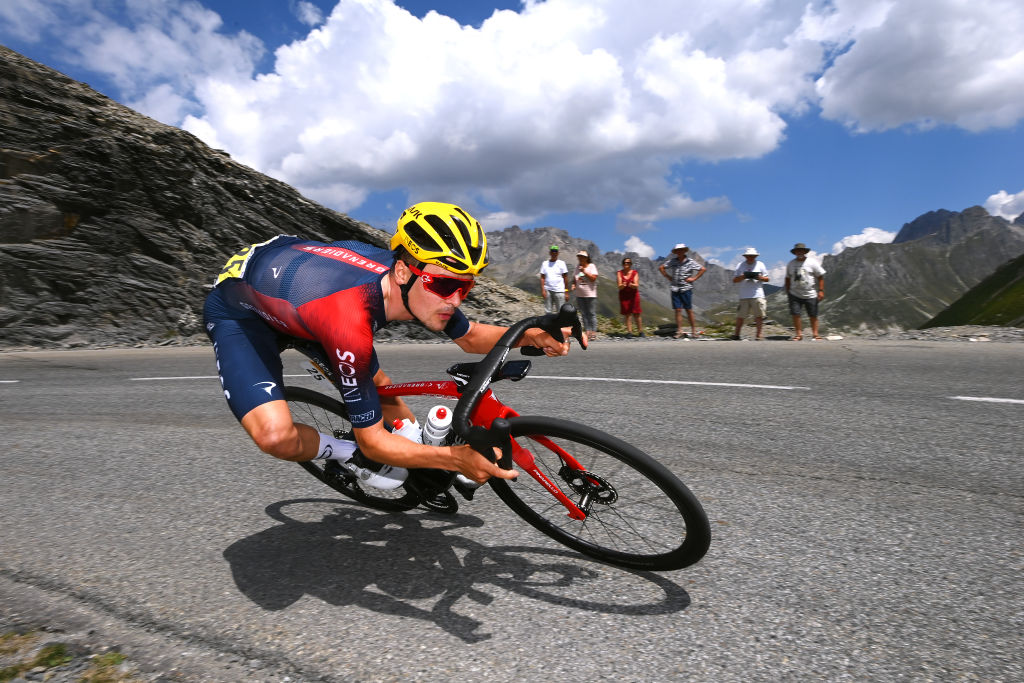 Who would I fancy for today's stage? Well, how about the man who must be the best descender in the peloton: Tom Pidcock. 
Who can forget that jaw-dropping descent en route to stage victory in last year's Tour. The guy goes downhill in another dimension. 
Any excuse to have another watch of those highlights…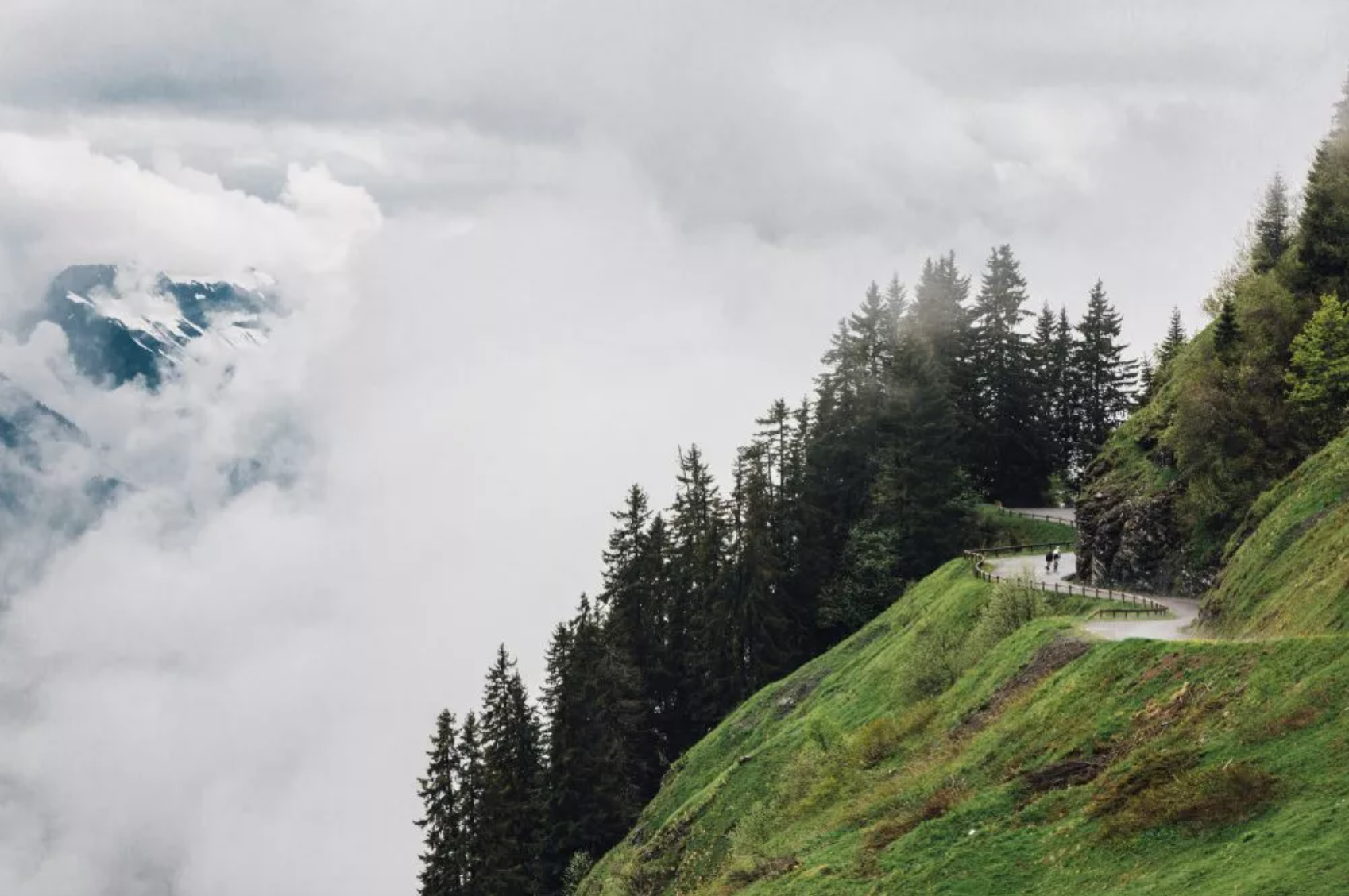 A little more on the Joux Plane. It doesn't have the superstar status of Alpe d'Huez or Mont Ventoux but it's a serious climb nonetheless. 
I went to visit the mountain ahead of the 2016 Tour, the last time it featured as the final climb (and descent) on a Tour stage. That year, the stage was won by Ion Izagirre (who won stage 12 of this year's race, as it happens). 
What I found was a small climb with a big story, and one which has put paid to many a Tour de France bid in its history. 
You can read all about it here. 
More than 4,000m of elevation with Col de Joux Plane as the main challenge of the day ⛰️Stage 14 is a gruelling one and fatigue is growing. Once they reach Morzine, the riders will have overcome 40,000m of elevation since the start from Bilbao 🥵#TDFdata #TDF2023 pic.twitter.com/g7UAqWhFx3July 15, 2023
See more
4,000m of elevation on stage 14, making 40,000m in total since the Tour began two weeks ago in Bilbao. 
Yikes! 
One thing to note about today's stage, however, is that very little of it takes place above 1,500m. In fact, most of it is below 1,000m. 
The high point of the stage, the Col de Joux Plane, is 'only' 1691m above sea level. That's plenty high enough for us mortals, but in Tour de France terms altitude will not be a significant factor in today's race.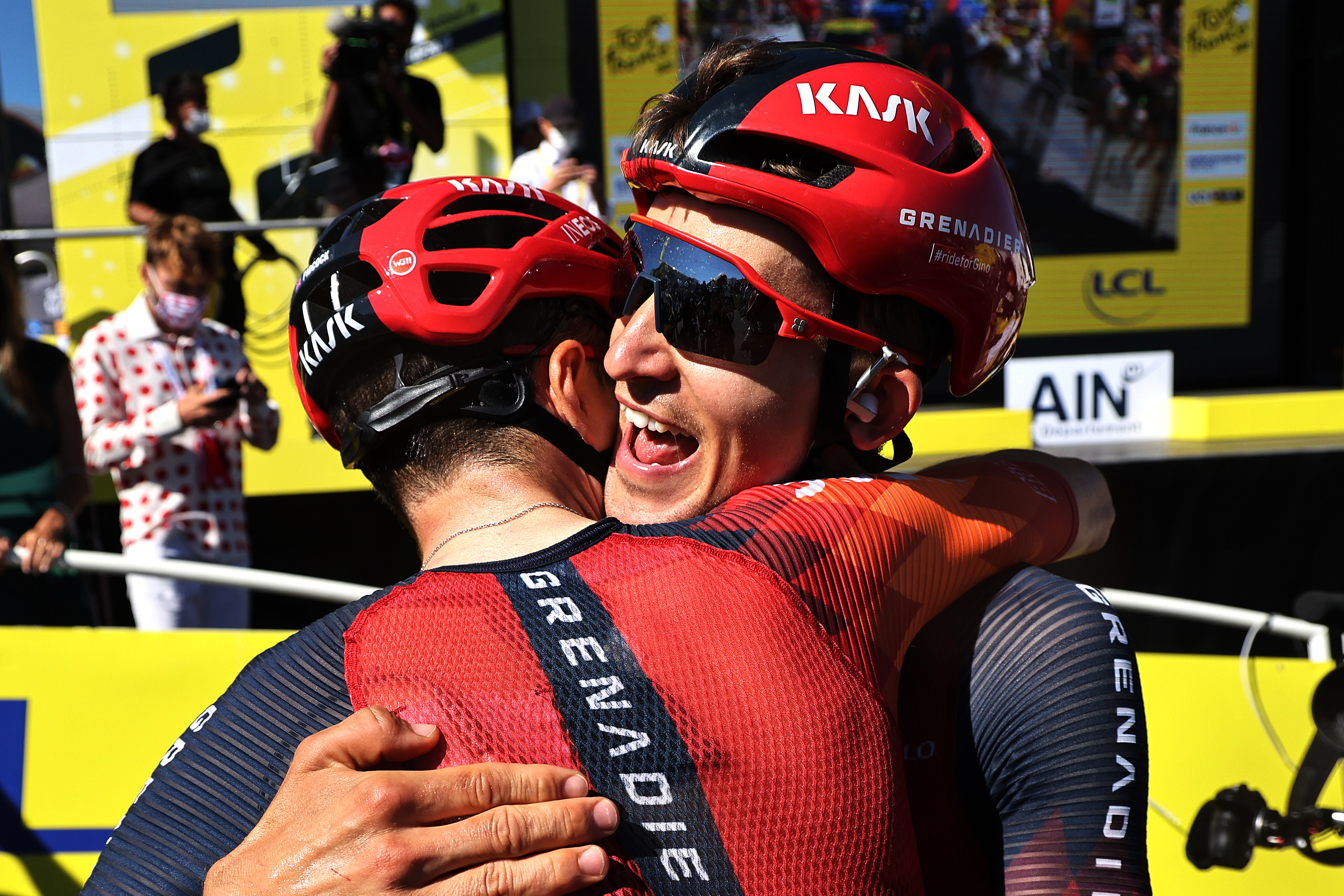 While stage 13 was notable for Pogačar's brutal acceleration to claw back eight seconds from Vingegaard, it was a fine victory for one of the world's best riders: Michał Kwiatkowski. 
Winner of he World Championships, Milan-Sanremo, Strade Bianche, Amstel Gold Race, and now two Tour stages; the Polish rider also gives a great interview, as he did after the stage. 
"It was euphoria when I heard we [the break] had an advantage, and when I caught the guys. It was intense, to start to realise 'shit I can win this stage'. In half an hour I had completely different emotions, it's crazy. I had the worst day on the bike yesterday at this Tour, I was really suffering on the bike, and today I had the best legs. It's all upside down. It's completely strange, and different emotions."
You can read CW's analysis here. 
And here is the general classification going into the stage:
1. Jonas Vingegaard (Den) Jumbo-Visma, in 53-48-50
2. Tadej Pogačar (Slo) UAE Team Emirates, at 9 seconds
3. Jai Hindley (Aus) Bora-Hansgrohe, at 2-51
4. Carlos Rodríguez (Esp) Ineos Grenadiers, at 4-48
5. Adam Yates (Gbr) UAE Team Emirates, at 5-03
6. Simon Yates (Gbr) Jayco-AIUla, at 5-04
7. Pello Bilbao (Esp) Bahrain Victorious, at 05-25
8. Tom Pidcock (GBr) Ineos Grenadiers, at 5-35
9. David Gaudu (Fra) Groupama-FDJ, at 6-52
10. Sepp Kuss (Usa) Jumbo-Visma, at 07-11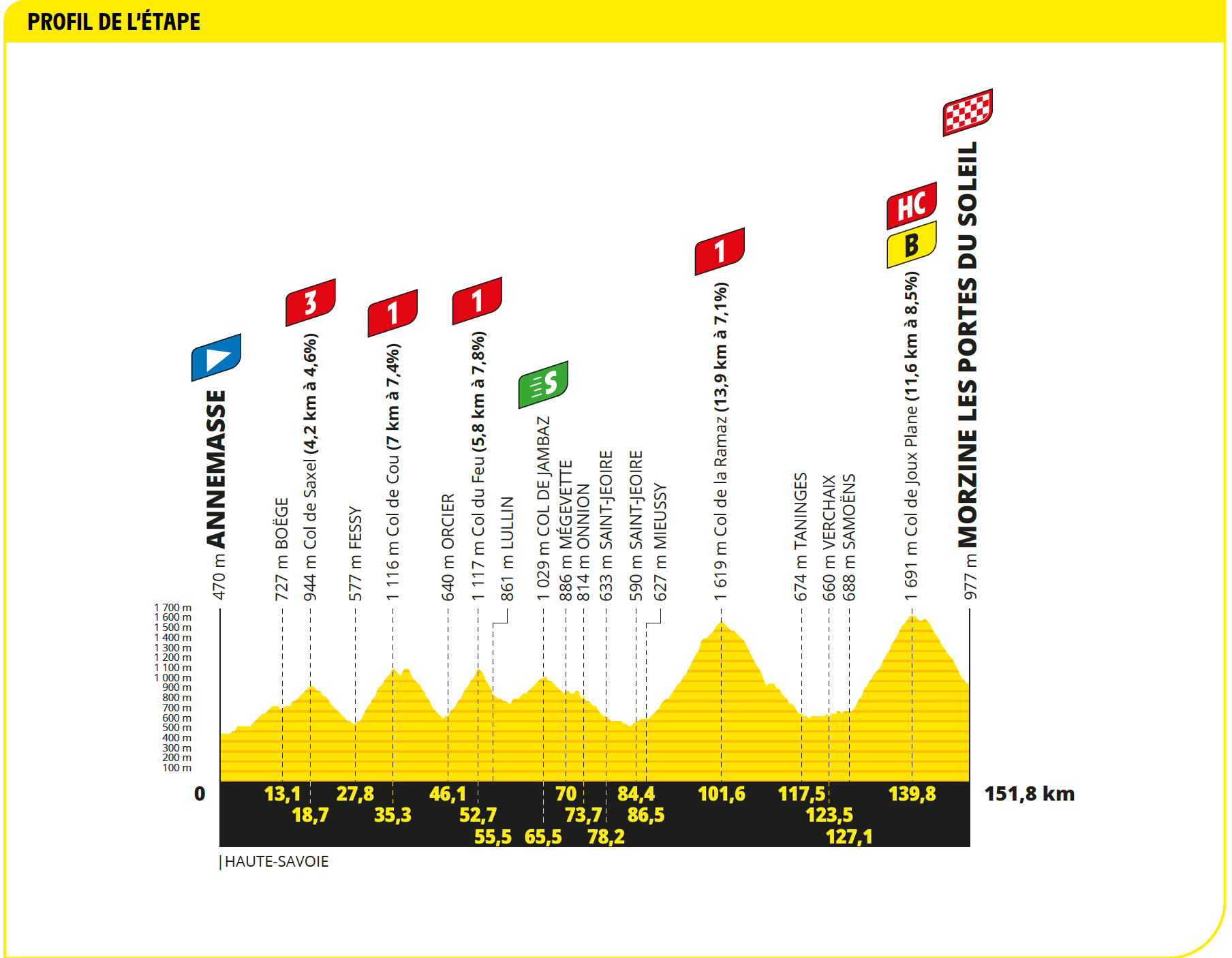 Here's what's on the menu today – a real classic Tour mountain stage sawtooth profile with five categorised climbs. 
A day for the climbers, then, with plenty of points in the King of the Mountains classification up for grabs. 
Of course we'll likely see some GC fireworks on that final climb, with those bonus seconds on offer on the Col de Joux Plane a mouthwatering proposition for Tadej Pogačar, just 9 seconds down on Jonas Vingegaard in the battle for the yellow jersey.