[Tour de France stage 9 as it happened: Yellow jersey showdown on Puy de Dôme


Refresh
What a stage that was! Fantastic viewing. I'm off to write a race report. 
Thanks for joining us for today. Rest day tomorrow. 
The Ineos duo of Pidcock and Rodriguez are following Yates and it's Pidcock who can stay with him. Rodriguez loses a handful of seconds to the man from Bury.
Jai Hindley comes in further back.
Pogacar grits his teeth out of the saddle. Vingegaard is digging in too. It's about 8 seconds at the line.
300m to go. There's no official time gap but I make it about 9 seconds.
They havee about 400m to go. Vingegaard can't close it and Pogacar tries to press on its growing but not big enough for the Slovenian to take the jersey yet. It's pretty steep all the way to the line.
The gap is growing but it's not huge yet. It's a 10% gradient.
Yates pushes on. rodriguez on his wheel. Then Pogacar, Vingegaard and Pidcock. 
Pogacar goes. Only Vingegaard can go with him. He keeps pressing and vingegaard loses a bike length or two.
I meant Simon Yates then by the way.
Ah, there they are. Its actually looks like a bit of a stalemate. Pidcock and Rodriguez are both there as Vingegaard sets the pace.
Yates attacks, Pogacar follows but Vingegaard shuts it down.
As the remins of the break come across the line we're denied images of the GC group by the host broadcasters for some reason!
Michael Woods wins it. 
Heartbreak for Jorgenson as Pierre Latour and Mohoric both come round him before the line its not even a podium for the American.
200m to go: Woods knows he has it now. The gradient eases a bit as they cross the train tracks.
500m to go: Woods catches Jorgenson. He attacks. There's nothing Jorgenson can do.
Woods is going to win this.
600m to go: Jai Hindley also dropped from the GC group. 
Woods is closing fast on the lead now.
700m to go: Pinot and Bardet have been dropped from what is now a GC group.
800m to go: Woods can see Jorgenson. it doesn't look far but on these gradients it'll be tough.
Woods looks the most comfortable of the two.
1.1km to go: Looks like a USA v Canada battle for the stage. Woods' mouth is wide open gasping for air.
There's very few left in the "peloton" now as Sepp Kuss drives the pace. 
1.2km to go: Woods has made it Mohoric and immediately attacks him. The Slovenian can't stay with the Canadian climber.
Jorgenson has just 33 seconds now. Is it enough?
1.5km to go: Pogacar sprays water on himself in clear sight of Vingegaard, which seems an odd choice to me unless he's bluffing?
1.6km to go: Jorgenson has 43 seconds. woods isn't catching Mohoric as fast as he was before he's close but can't quite bridge the gap.
1.9km to go: Jorgenson has only 50 seconds.
Jumbo come back to the front of the peloton to re-asset themselves. They just went under the 5km mark.
2.2km: Woods can see Mohoric, who is now 50 seconds behind Jorgenson.
In the peloton Wout van Aert pulls over, spent. UAE Emirates come to the front to turn on the gas.
2.5km to go: Woods has passed Powless and Burgaudeau and is off after Mohoric.
Jorgenson's lead is ticking down. It's under a minute.
2.8km to go: Jorgenson's gap to Mohoric is 1-09, slightly down o nwhat it was earlier. Woods is flying across towards him. 
In the peloton UAE Emirates are pouring water over Tadej Pogacar.
Heat is a major factor today.
3km to go: Michael Woods is coming across to the chasers in a hurry. We don't have time gap to Jorgenson currently.
3km to go: Mohoric has broken free of the other two but he's grimacing on the steep gradients. Powless looks spent. 
3.2km to go: The chasers just cannot eat into Jorgenson's gap! He still has 1-20 on them.
3.4km to go: Ben O'Connor, who's GC hopes have already been dashed, is dropped from the peloton.
3.7km to go: Pogacar is on Vingegaard's wheel but they all have a few team-mates left.
Up front, Jorgenson taps away.
4km to go: There are no fans where Jorgenson is now. It's a weird sight. 
Further back Julian Alaphilippe is distanced by the peloton, which is considerably thinned out.
4.6km to go: A lot can change in this 4.5km but he knows what he needs to do and I'll bet he's paced it just right. It'll depend what the chasers have left. We'll find out soon.
Jorgenson throws a bottle away.
5km to go: Jorgenson is passing the last of the fans now as he comes into the hoarded section. 1-17 is his advantage.
5km to go: Powless is doing the the work in the group behind.
5.5km to go: Jorgenson is in the drops as he drives on the flatter section. The vicious part of the climb is about 1,500m away. He can see the top right now looming over him.
6km to go: Mathieu van der Poel (Alpecin-Deceuninck) is distanced out the back of the peloton as Dylan van Baarle (Jumbo-Visma) sets a blistering pace.
7km to go: Jorgenson has stretched his gap to the chasers to 1-09. 
Jumbo are driving the peloton's pace.
7.8km to go: Romain Bardet can see the Puy de Dôme from his kitchen window so expect him to be a factor in that second race today. He's eighth on GC right now.
8km to go: The GC teams are still drilling it in the peloton keen not to give their rivals an easy ride.
8.5km to go: The remains of the break have lost ground on the chasing three. They're now a minute down on their former compadres.  
8.5km to go: Jorgenson is hitting the flatter section now before it ramps up. Jorgenson has been solo since 40km to go and still has 56 seconds in hand.
9km to go: The peloton, 15 minutes back, is still moving like a bat out of hell.
We get two races for the price of one today.
9km to go: There's fans all over the road as Jorgenson rides on seemingly quite comfortable. He knows what he needs to do. Will he better his Strava KOM?
10km to go: Powelss is just dragging the other two now.
Jorgenson still has 57 seconds. Can he get the biggest win of his career?
10km to go: Jorgenson is on 9% section and tapping out a steady rhythm. He'll hate the wind when he gets on the more exposed section but might at least like the cooling effect of the breeze.
10km to go: Powless eases his way off the front of the chasing three but he doesn't seem to have much of a gap.
10km to go: The remains of the break are actually gaining on the chasing three, they're just 30 seconds back on them now 1-35 down on Jorgenson.
A motorbike has crashed chasing the peloton. We don't know if anyone is hurt, hopefully not.
11km to go: The peloton is travelling downhill at about 80kph in a massive bunch. Looks pretty scary.
11km to go: The chasing three are working quite smoothly together. That'll be of most value on these lower slopes.
12km to go: Jorgenson once again pours water on himself. The temperatures are north of 30C.
12km to go: Jumbo are driving the pleoton behind. They're 16 minutes back now, presumably setting things up for Vingegaard.
Savage gradients
Just a reminder of the climb the riders are tackling.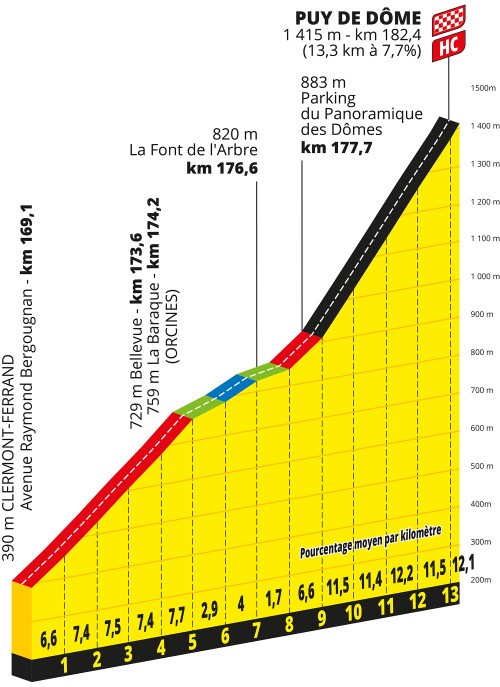 12km to go: Jorgenson's gap is over one minute as the lower slopes of the climb start.
15km to go: The Movistar rider is nearly one minute ahead now.
16km to go: Powless might be in the best position as probably the best climber from the chasing trio – de la Cruz having been taken out by that bike change.
They're now 52 seconds down on Jorgenson.
17km to go: Jorgenson has a gap of 34 on the chasers now, it's holding kind of steady. He takes a bottle and an ice pack for the back of his jersey from the Movistar team car.
19km to go: Jorgenson has 38 seconds on the chase now he's all in. 
Back in the peloton Lars van den Berg (Groupama-FDJ) has crashed as one of his team-mates tried to take a musette from the side of the road and something went wrong.
20km to go: Jorgenson nearly loses it on a corner he's pushing the limits right now.
22km to go: Jorgenson knows what is required o nthat final climb so you have to assume there's an element of him measuring his effort here and yet he's still putting time into the chasers.
David de la Cruz has lost his chain on a descent. That is very bad luck the mechanic thinks about trying t put it back on with his fingers but thinks better of it.
De la Cruz stops for abiek change. That's going to cost him a lot of time.
23km to go: Jorgenson's gap is going out. He has 30 seconds now!
27km to go: The gap from Jorgenson to the remains of the break is now just over one minute. It seems odds on that the winner will come from this front five. 
Well, what I assume will become a front five at some point. Unless someone can really blitz it on the climb, which is not impossible.
30km to go: Mohoric goes again as the road kicks up. It's almost never flat constantly rolling.
Powless shuts him down. He's looking very strong.
By the way Jorgenson has just 15 seconds now.
32km to go: Apparently its 34 degrees C at the base of the final climb. That could well be a decisive factor today. 
Mohoric leaves the quartet again but Powless drags them back up.
33km to go: Mohoric's massive engine is proving invaluable at driving this quartet on. 
35km to go: Jorgenson is going well as he sprays water on himself to cool himself down in the heat of the French summer. The four chasers are gainning on him and are just 18 seconds behind.
36km to go: Powless and David de la Cruz try to get to Mohoric and Burgaudeau on an uphill section. Now it's all over the place. One of the UNo-X riders grinds to a stop, spent.
36km to go: Jorgenson's gap to the bulk of the break is still around 30 seconds but Mohoric and Burgaudeau are nibbling into it.
37km to go: Lutsenko is trying to chase but the fatigue in the break is starting to show.
37km to go: As I type that Burgaudeau bridges across to him.
38km to go: Mohoric attacks again from the break. The chase is a little half-hearted.
40km to go: Jorgenson continues to build an advantage. His lead is 26 seconds. Meanwhile, Neilson Powless is being gapped off the back of the break.
42km to go: Jorgenson is getting his chin to his bars as the he flicks through a section of flowing corners at close to 70kph.
His gap is 23 seconds now.
44km to go: Jorgenson has 18 seconds on the break. Campenaerts has been caught, the chase is not very organised and Mohoric is trying to go on antoher downhill section.
46km to go: That gap is going up but it's a long way to go alone. Now Campenaerts goes off in pursuit. They're chasing him hard though.
47km to go: Jorgenson now has a gap. The American looks like he means business. He has a decent gap.
At the back of the break Bouvin is struggling and has lost the wheel.
49km to go: He's brought to heel and its attack after attack. Back in the peloton Jumbo are controlling the cruising pace.
49km to go: Now Abrahamson has a gap.
50km to go: Mohoric is driving it on and splits appear again but they're not massive.
50km to go: Clément Berthet (AG2R) closes the gap with seeming ease and it's all back together again.
51km to go: Mohoric tried to bridge there but was followed.
52km to go: Michale Woods, Alexey Lutsenko and Mathieu Burgaudeau (TotalEnergies) are the others in this front move. They have eight seconds.
53km to go: They're joined by Jona Gregaard (Uno-X) to make five. They're travelling downhill at a real clip.
54km to go: Jorgenson attacks now and another four rider group goes clear. 
54km to go: It's all back together now in the break.
55km to go: Latour goes on the attack and he's followed by three others.
While we've been watching the race some teams have been debating who the rider we should all be watching today is.
59km to go: Bouvin has 11 seconds on the break now. He's plugging away.
Correction: Earlier I foolishly said Jorgenson was a team-mate of Michael Woods when one rides for Movistar and another for Israel-Premier Tech. I've corrected it now. Sorry, that's me getting my blue jerseys confused.
62km to go: Guillaume Boivin (Israel-Premier Tech) has attacked out of the break! He has a bit of a gap but no-one is going with him. 
64km to go: Wout van Aert (Jumbo-Visma) has his sleeves turned up a bit to help with his tan lines. The gap to the break is now 11-44.
Windy volcano
Adam Blythe on GCN is breaking down the conditions on the climb. It's note worthy that there won't be any fans on the road on the upper slopes (I'm not 1005 sure if its barriered or they're not allowed for safety reasons though i suspect it's the later) and the road is very exposed so wind could well be a factor.
Apparently the beginning of the hard bit is a headwind.
71km to go: He's now getting a sticky bottle from the team car to help him back to the break.
72km to go: Having just talked up his chances Jorgenson has just been stung by a bee or maybe a wasp under his helmet.
That's far from ideal but he's able to get a bit of treatment from the medical moto.
Matteo Jorgenson's KOM ride
Having said there wasn't' much Strava information about the Puy de Dome, it turns out that Matteo Jorgenson (Israel-Premier Tech) rode up there earlier this year and claimed the KOM.
It's likely the Tour's official page doesn't publish this info, depsite a partnership with strava, because you're not suppossed to be able to do it. I'm not sure how Jorgenson did.
Anyway, the important thing today is Jorgenson is in the break. 
Could it be Jorgenson's day?

82km to go: The break's advantage has dipped below ten minutes but I'm pretty sure the peloton has zero interest in catching them.
Who's going to win?
Now we know the winner will be one of 14 riders in the break, lets see who might be in the shake-up for the stage.
Michael Woods is probably the favourite, and the pick of my colleague Tom Thewlis. Neilson Powless might be in with a shout but the finale of the ascent may be too punch for his tastes.
Matej Mohoric is actually a better climber than people give him credit for but I fear he's a bit big to stay with accelerations on the upper slopes.
Pierre Latour could be a good bet. The French climber has been touted as a GC hope in the past, though he hasn't really lived up to that tag. This could be his day.
How hard if the Puy de Dôme?
Pretty hard is the answer though unlike many climbs in the Tour it's hard to quantify as the road is not ridable to the public. Plus, the race hasn't been up there in decades so there is very little Strava information to go on.
But just look at that black section of 5km on the climbs finale. That's all over 10%.
 Prior to that its not super-easy either at around the 7% mark.
How fast they'll go up it though is anyone's guess.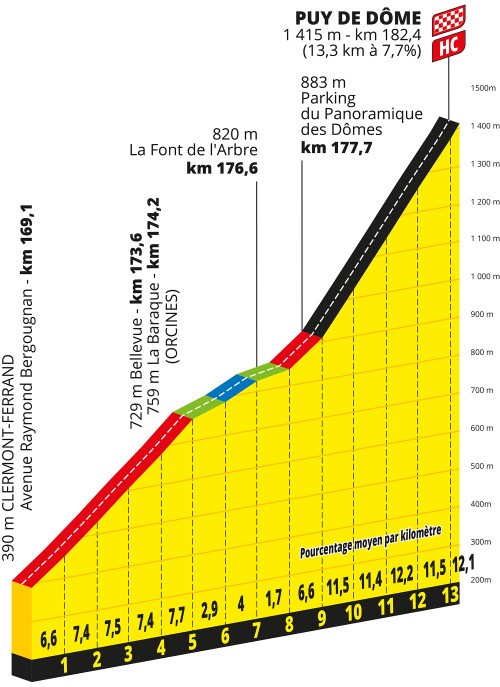 95km to go: Powless now has a 10 point lead in the KOM competition on 38 points to Felix Gall's (AG2R Citroen) 28.
96km to go: As the race crests a fourth category climb Neilson Powless (EF Education-EasyPost) clips off the front of the break to claim a solitary KOM point to tighten his grip on the polka-dot jersey.
98km to go: As the race ticks under the 100km mark the peloton is strung out as they hit a short descent.
Jasper Stuyven (Lidl-Trek) is back in the cars being paced by his team car, though it's not clear why exactly.
102km to go: Jumbo-Visma are setting the pace in the peloton and the gap to break has stabilized at around 10-40.
101km to go: Victor Campenaerts is back at the car getting some refreshments. #the gap to the break is 10-17 now.
115km to to: The break is rolling through very smoothly. I'll take bets on when that co-operation wil lbreak down, just DM me on Twitter.
127km to go: Remi Cavagna is told that by his DS the, no he should not try and chase or bridge, they had a chance and will have to sit this one out.
134km to go: Not many updates as… well… there's not a lot happening. Michael Woods is the cloest on GC at 28 minutes so he's no threat really. The break has 9-23.
139km to go: Sepp Kuss (Jumbo-Visma) has to stop for a mechanical but he's off and running again and in the convoy.
The peloton is clearly going to let the stage go today as the break now has a whopping 8-41 lead.
145km to go: Japser Philipsen rolls off the front of the peloton to collect a whopping one point. I guess they all count.
147km to go: Lilian Calmejane is, justifiably, very annoyed to hit the tarmac after a fan's set of flags in tribute to Poulidor have gotten wrapped up in his bike's bars and sent him to the deck.
151km to go: Jonas Abrahamsen (Uno-X) clips off the front to claim the intermediate sprint points, probably more for the small financial rewards than a earnest pursuit of the green jersey competition.
Who's in the break?
The 14 escapees are:
Neilson Powless (EF Education)
Matej Mohoric (Bahrain Victorious)
Clement Berthet (AG2R Citroen)
Gorka Izagirre (Movistar)
Matteo Jorgenson (Movistar)
Michael Woods (Israel-Premier Tech)
Guillaume Boivin (Israel-Premier Tech)
Victor Campenaerts (Lotto-Dstny)
David de la Cruz (Astana)
Alexey Lutsenko (Astana)
Jonas Abrahamsen (Uno-X)
Jonas Gregaard (Uno-X)
Mathieu Burgaudeau (TotalEnergies)
Pierre Latour (TotalEnergies)
They have an advantage of 3-20 now.
155km to go:  The situation seems to have finally settled down now! The break's gap is 2-46.
162km to go: Mattias Skjelmose (Lidl-Trek) goes off the front and Alberto Bettiol (Ef Education-EasyPost) marks him. The Italian isn't doing any work though so we'll see how keen the Danish champion is on trying to close the 1-15 gap on his own.
The peloton is 1-39 behind the break.
Now Alaphilippe tries to get across to them.
166km to go: The peloton is back together again. 
Now Alpahilippe goes!
Arkea and Ineos try to get involved. There's a group of close to ten. Rui Costa (Intermarche) and Magnus Cort (EF Education-EasyPost) are among them.
No, the peloton reels them in again.
The break has 43 seconds.
168km to go: Dani Martinez (Ineos Grenadiers) tries to push clear but he's makred by James Shaw.
At the back DSM sprinter Sam Welsford is dropped. 
Now Egan Bernal goes off the front and Fred Wright follows him.
They come back but Wright has another dig.
This is moving faster than I can type.
169km to go: The pace in the peloton is still high and the break's advantage has fallen to 45 seconds. Soudal – Quick-Step are mostly responsible, seemingly keen to set it up for Julian Alaphilippe.
Captain America is out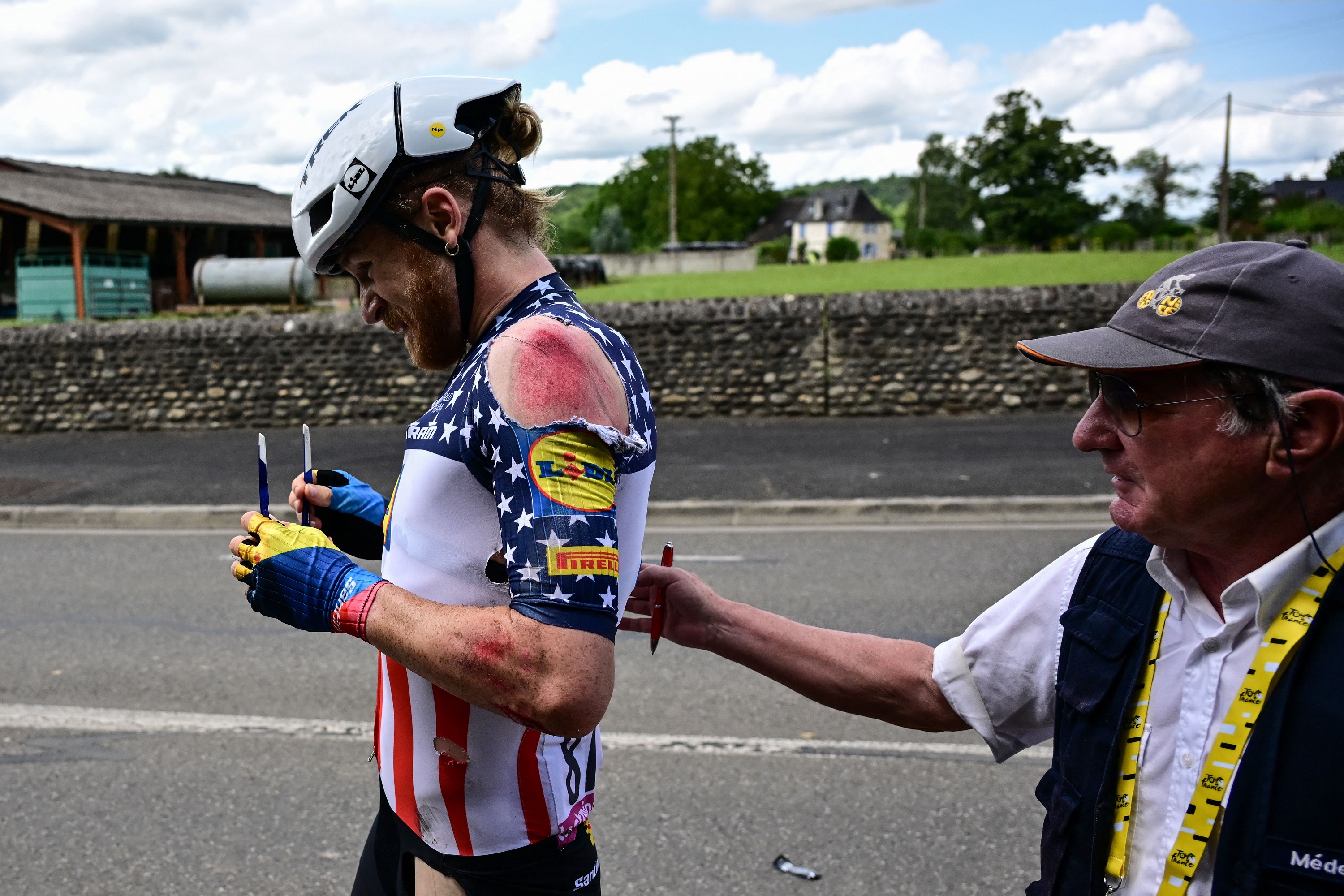 US champion Quinn Simmons (Lidl-Trek) who crash a few stages back, doesn't start the race today having succumbed to his injuries.
172km to go: Mads Pedersen now rolls through. They're not soft pedalling, the effort is clear from their faces.
173km to go: Kasper Asgreen (Souda – Quick-Step) is driving the peloton on.
173km to go: The chase group has been brought to heel. An Uno-X rider is now trying his luck.
Oh no, he's been caught now.
175km to go: Among the teams to have missed the first move are Ineos Grenadiers who have three riders now marking moves off the front of the peloton including Michal Kwiatkowski.
176km to go: A break fo around 15 riders has over a minute on the pleoton but a raft of riders are now trying to chase including Mathieu van der Poel and Wout van Aert.
The front group contains talented climbers Michael Woods (Israel-Premier Tech) and Neilson Powless (EF Education-EasyPost).
I'll get a full list when it settles down a bit.
Tributes for Raymond Poulidor 
As well as being forever associated with the finish of today's stage, Poulidor lived in the region of the town of today's start so the tributes to the great who died in 2019 were out in force.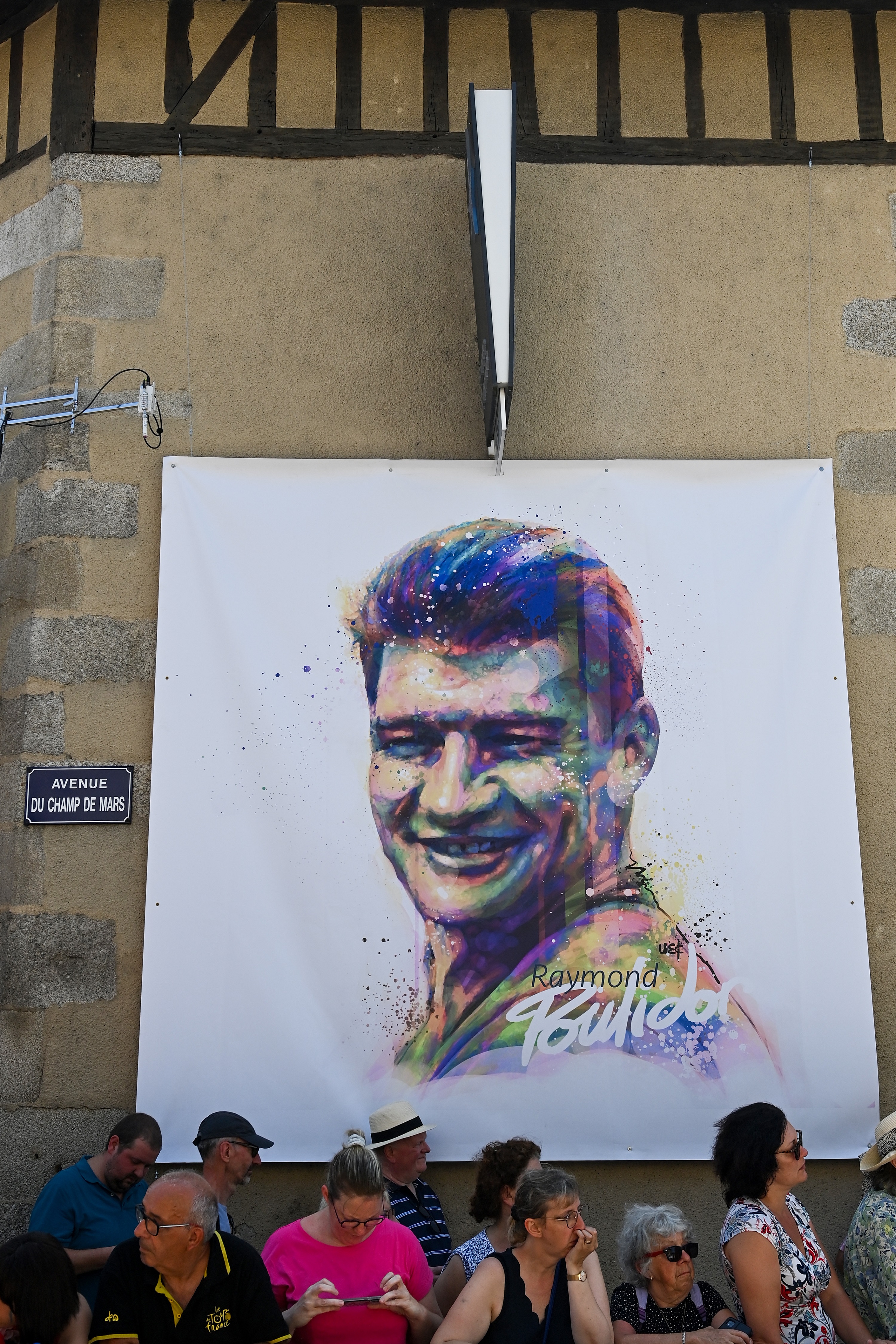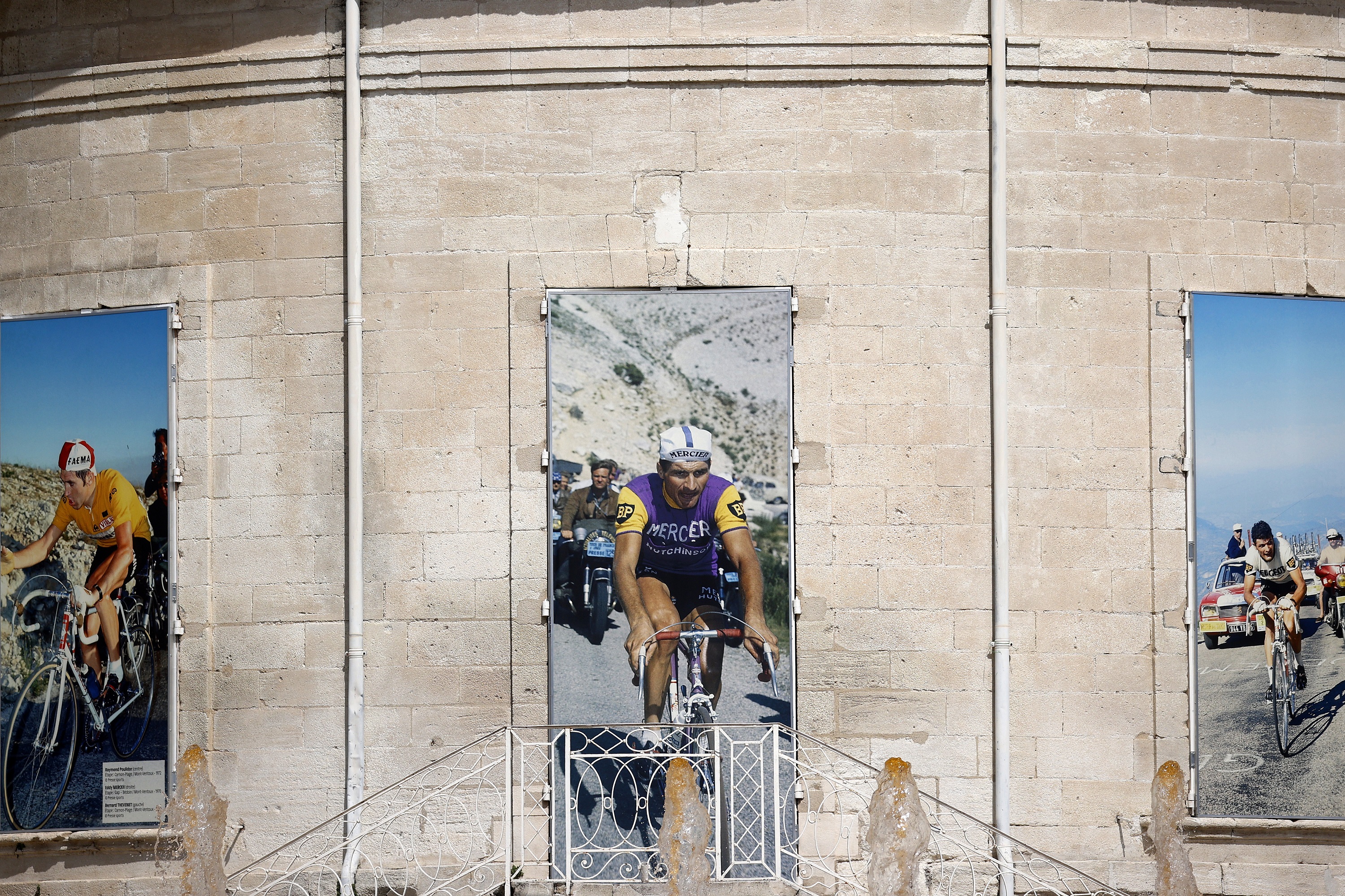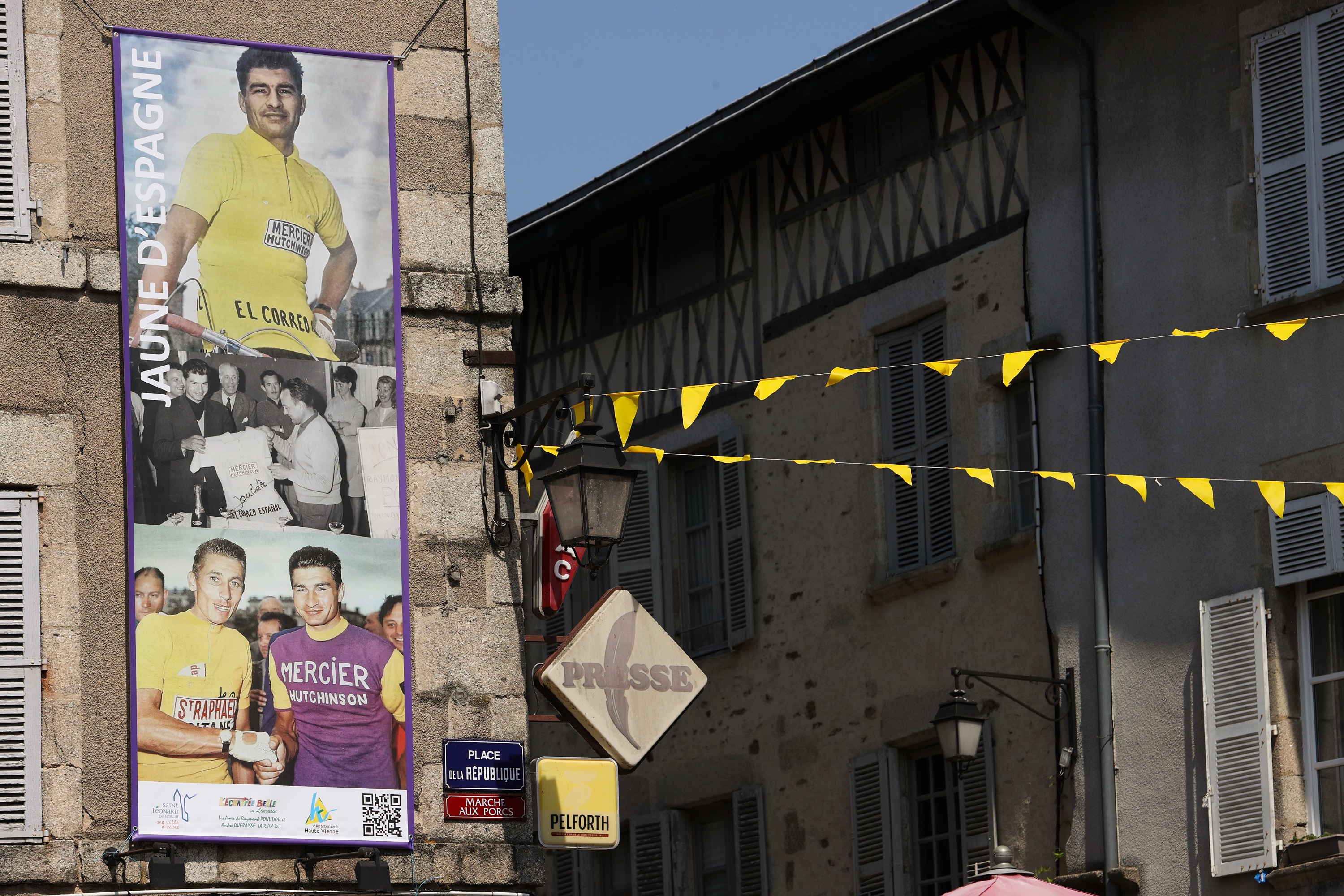 Emotional day for Mathieu van der Poel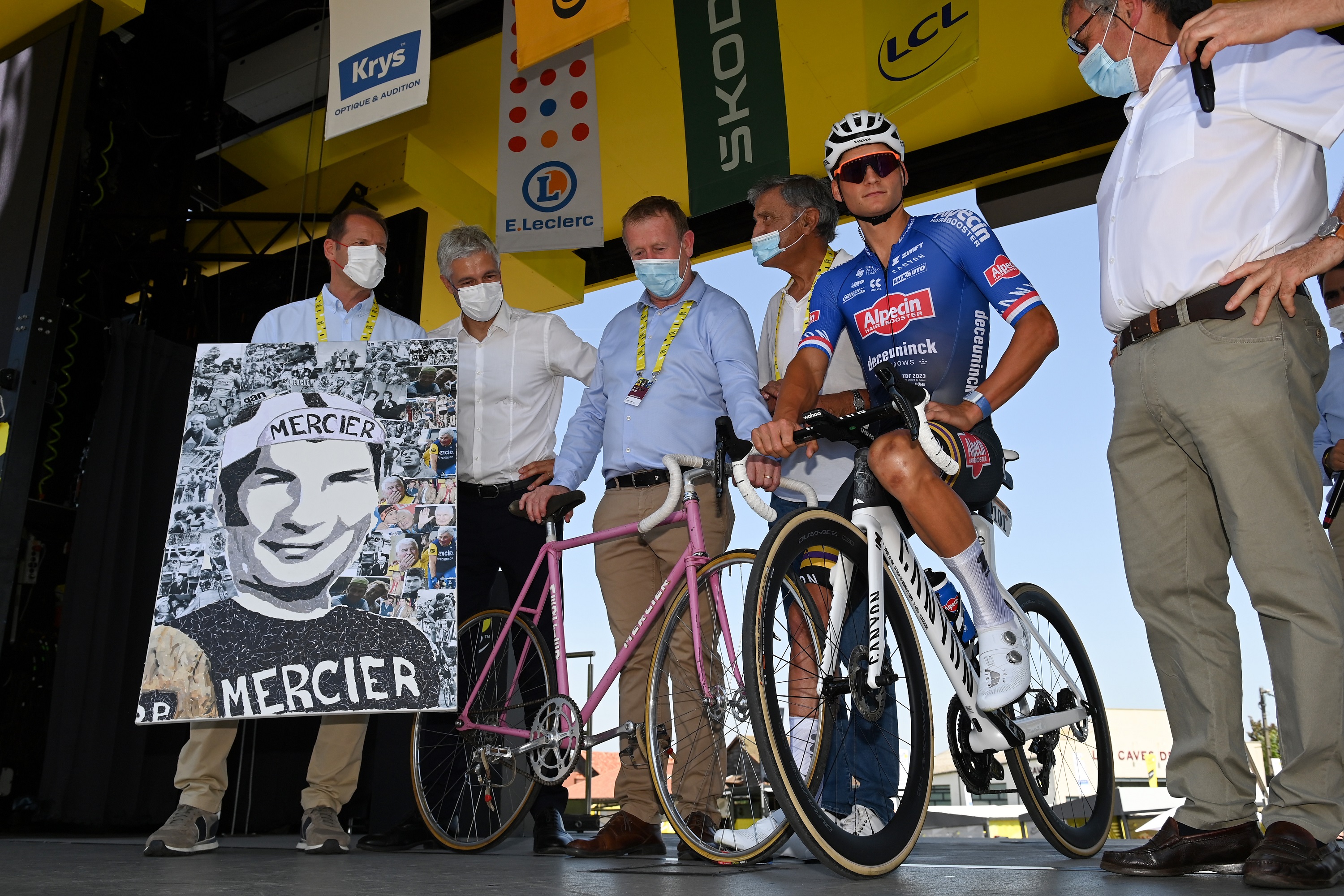 It was an emotional moment at the start today as Mathieu van der Poel (Alpecin-Deceuninck) was presented with a memorial bike and a portrait of his late grandfather Raymond Poulidor.
Poulidor is forever associated with the Puy de Dôme because of his battle with  Jacques Anquetil there in 1964. 
Anquetile was in the yellow jersey and with a time trial the next day, Anquetil's best discipline, it was crucial for Poulidor to put time into him, not just to take the jersey but to give himself a realistic chance of victory. 
Having been dropped by the Spaniards who would contest the stage victory Federico Bahamontes and Julio Jimenez, the pair rode together until Poulidor attacked in the final kilometer.
He came up 14 seconds short of taking the jersey though. But, the more popular of the two, he was roared on by the crowd all the way.
Today's route
The route from Saint-Léonard-de-Noblat to Puy de Dôme covers 182km and there's not a huge amount to bother the riders until the final climb, despite the fourth and third category climbs. 
That should make it eminently controllable for the GC riders' teams, minimising the chance of a break staying away, unless they judge there to be an interest in the break snapping up the bonus seconds.
I imagine the challengers like UAE Emirates and Bora-Hansgrohe will be keen to see Jumbo-Visma, who currently have the jersey, do most of the work.