[Tour de France stage AS IT HAPPENED: Châtillon-sur-Chalaronne to Grand Colombier


Refresh
Here's our full stage report on an action packed day of racing. 
We'll have a full stage report up on the site in a moment.
What a day of action at the Tour. 
No way! Pogacar trims off seven seconds on Vingegaard's gap.
The Danish rider simply can't live with those kinds of vicious accelerations from the Slovenian.  
Here goes Pogacar! what a vicious sprint!
My word he's torn past James Shaw and taken the bonus seconds! Vingegaard can't live with him!
Michał Kwiatkowski wins the day!
1km to go: Kwiatkowski is under the flamme rouge.
He is hammering those pedals! The stage win will be his! 
Shaw has torn off up the road in search of Kwiatkowski! The breaks gap is 1-58 but perhaps the EF man still thinks there's something left in this for him. 
1.9km to go: Adam Yates attacks from the GC group!
Kuss is straight onto his wheel and pulls Vingegaard and Pogacar back to them. 
2.3km to go: There's still no sign of a Pogačar or Vingegaard attack from the GC group.
Meanwhile Shaw looks like he's pushing on in an attempt to catch Kwiatkowski. 
2.6km to go: Kwiatkowski has 1-10 on the chasing quartet.
He should comfortably take the stage. He's not going to blow up now, surely?!
3.7km to go: Kwiatkowski is pretty much a kilometre up the road from the UAE led group and he's into a flatter section. 
4km to go:
Majka is now upping the tempo on the front of the UAE led group.
The stage win is pretty much Kwiatkowski's to lose though at the moment. 
5.6km to go:
Whatever happens today, this is a seriously impressive ride from Kwiatkowski at the head of the race.
He looks as fresh as a daisy and is showing no sign of relenting. 
5km to go:
The breakaway's gap is now just 2-21.
Kwiatkowski has a minute on Shaw, Tejada and co but it feels like UAE are about to launch the white jersey from the peloton. 
6.9km to go: Pogacar is going to have to go like an absolute rocket if he's going to catch Kwiatkowski now.
The UAE rider is still tucked behind his teammates in the bunch. 
7.6km to go: Soler has dropped off the front of the peloton and now it's over to Felix Großschartner and Rafal Majka for UAE.
Kwiatkowski meanwhile has almost a minute now on the chasers. 
7km to go: Kwiatkowski is looking very very good.
If he pulls it off, the former world champion will be a seriously popular winner today. 
8km to go:
Soler is hammering it through this flatter section of the Colombier now.
Pogacar will almost definitely attack, it's just a question of when?!
9km to go:
Kwiatkowski is absolutely flying here.
The gap between him and the chasers is growing by the metre.
Will the Polish rider have his moment today?
It feels like the peloton are happy to let the breakaway battle this out.
10km to go: Really impressively Kwiatkowski has put 30 seconds into the trio behind him now.
Soler meanwhile is grimacing and gasping for air at the front of the peloton.
Kwiatkowski has 3-07 over the peloton and 36 seconds on Shaw, Tejada and van Gils.
Matej Mohoric has also now joined them. 
11km to go: Michal Kwiatkowski (Ineos Grenadiers) has come almost from nowhere and jumped past the three riders at the head of the race! Wow…. he must have been floating there somewhere in no man's land but he's torn past Shaw, van Gils and Tejada.
12km to go:
Meanwhile back down the road Soler is still leading the charge at the head of the peloton.
If UAE still want this stage for Pogacar they're going to have to do something pretty sharpish. 
Pacher has been dropped straight out the back of that group.
They've got 3-48 on the peloton with 12km to go.
This is starting to look very very good for the breakaway. 
Shaw takes a big drink and then tosses his bidon to the side of the road.
He's absolutely burying himself here. C'mon! 
Right! Shaw, van Gils and Tejada have caught Pacher and they're pushing on.
van Gils is leading the race with Shaw locked onto his wheel. 
12km to go:
Pacher has five seconds over the group containing Shaw, van Gils and Harold Tejada.
This is absolutely crazy.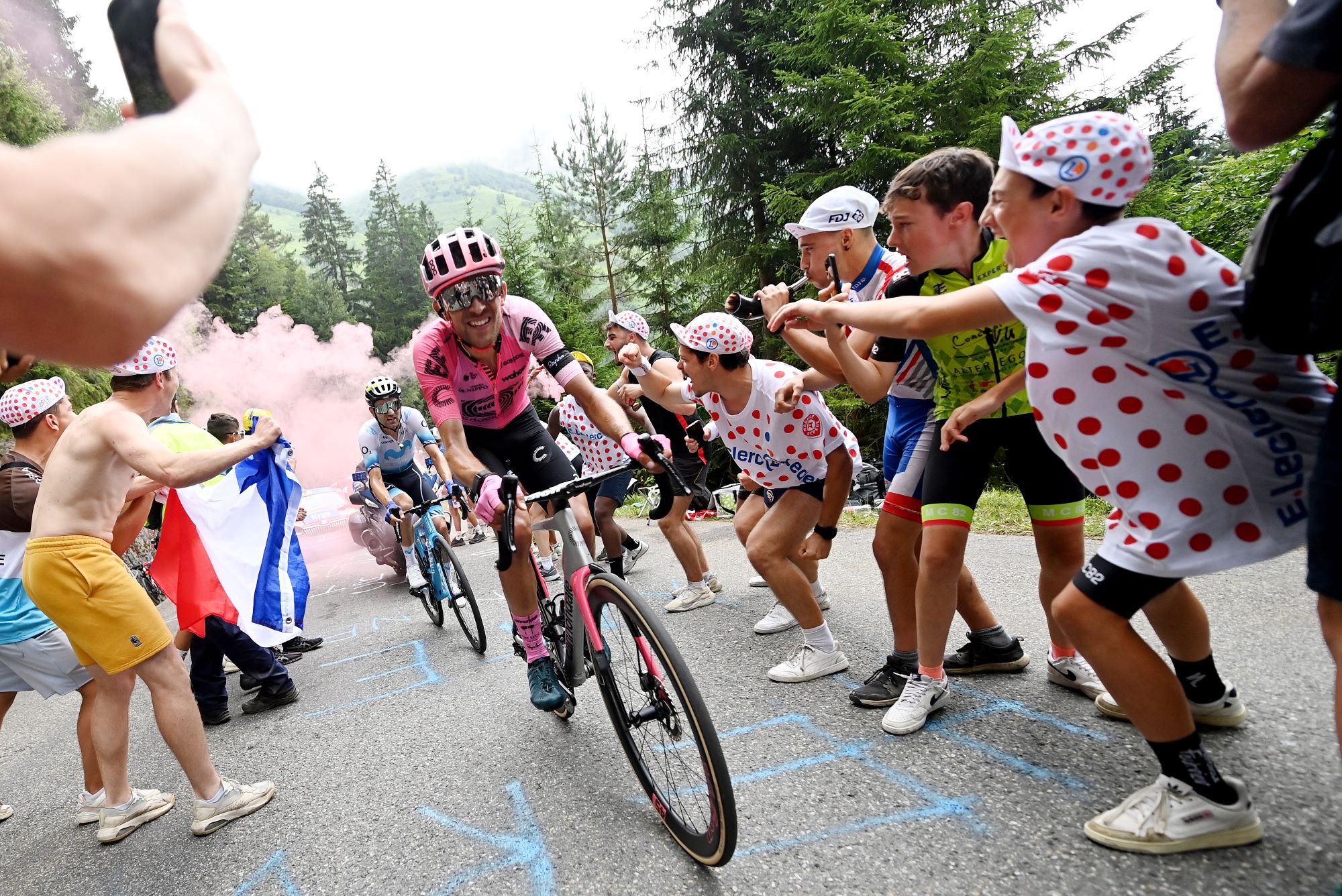 What a story that would be if James Shaw does it today!
There's a cracking interview with Shaw in this week's Cycling Weekly magazine written by yours truly.
Go out and grab yourself a copy! It's worth it. 
Pogacar is moving up on the right of the peloton although Vingegaard is locked onto his wheel.
Sepp Kuss is on the wheel of Vingegaard.
Kuss is the only domestique left for Jumbo-Visma.
We've just got three in the chasing group now.
Shaw, van Gils and one more who are going in search of Pacher. 
Worrying to see Laporte, Van Aert and Benoot all distanced for Jumbo.
Not that unsurprising, but UAE still have pretty much their full squad at the front of the peloton. 
14km to go: Meanwhile up the road Pacher is pushing on at the head of the race.
The break still have 3-36 on the peloton but this climb will really start to bite in the coming metres.
Marc Soler takes his gloves off on the front of the bunch and throws them to the floor.
UAE are quite clearly getting ready to launch Pogacar.
The peloton are onto the climb with UAE driving them hard still. 
15km to go:
Alberto Bettiol is leading the group of chasers up this climb.
The Italian has his jersey unzipped all the way and is absolutely burying himself in support of James Shaw.
16km to go:
Quentin Pacher has kicked on from the break.
Long way to go with this many strong men behind you!
17km to go: Here we go!
We're onto the Colombier.
James Shaw leads the charge onto the final climb and the breakaway have 3-49 on the peloton.
This is going to be nailbiting!
Grand Colombier fast approaching. Get ready!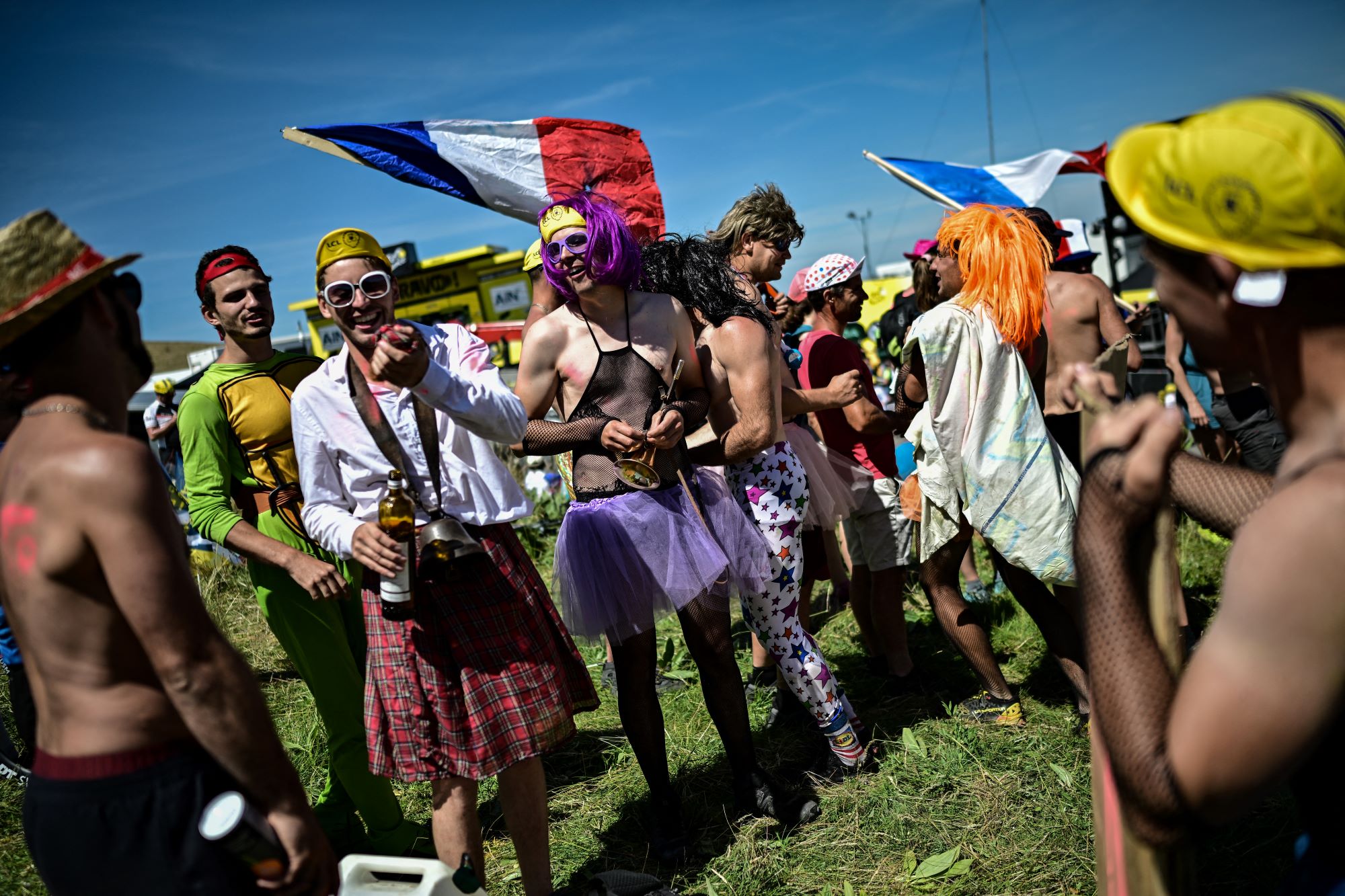 The fans are out in force on the roadside today.
Although I'm not sure the French are going to get their stage winner. 
22km to go:
News has just come in that Caleb Ewan has been forced to abandon the race. Sad news for the Australian!
He was so close to the stage win in Nogaro last week.
24km to go: The breakaway now have 4-02 on the peloton.
We've just seen Pogačar deep in conversation with Wout van Aert at the back of the UAE train.
Looks like the Slovenian is asking for help from Jumbo to bring the breakaway back in? Can't imagine he's going to get it. 
30km to go: The breakaway have getting on for four minutes now on the peloton as they bomb down this descent towards the base of the Colombier.
UAE have their full team assembled on the front of the peloton driving the bunch.
There will almost certainly be fireworks when they reach the base of that climb.
Although at this rate, one of the guys in the break could potentially take the stage. 
Apparently Jonas Vingegaard is on his lighter climbing bike today.
He's just said that Jumbo plan on riding defensively as they believe the climb suits Pogačar more than him.
Once they reach the climb and Pogačar takes flight, it's hard to imagine any other scenario than him winning the stage and taking the yellow jersey from the Danish rider. 
36km to go: The Intermarche riders, Mohorič and the guys from EF are really driving this breakaway on.
They are determined to stay away today. The fast pace is too much for Pierre Latour who has been sent flying out the back.
James Shaw and Bettiol are on the front for EF and they are absolutely smashing it.
Good luck to all the other guys trying to hang on!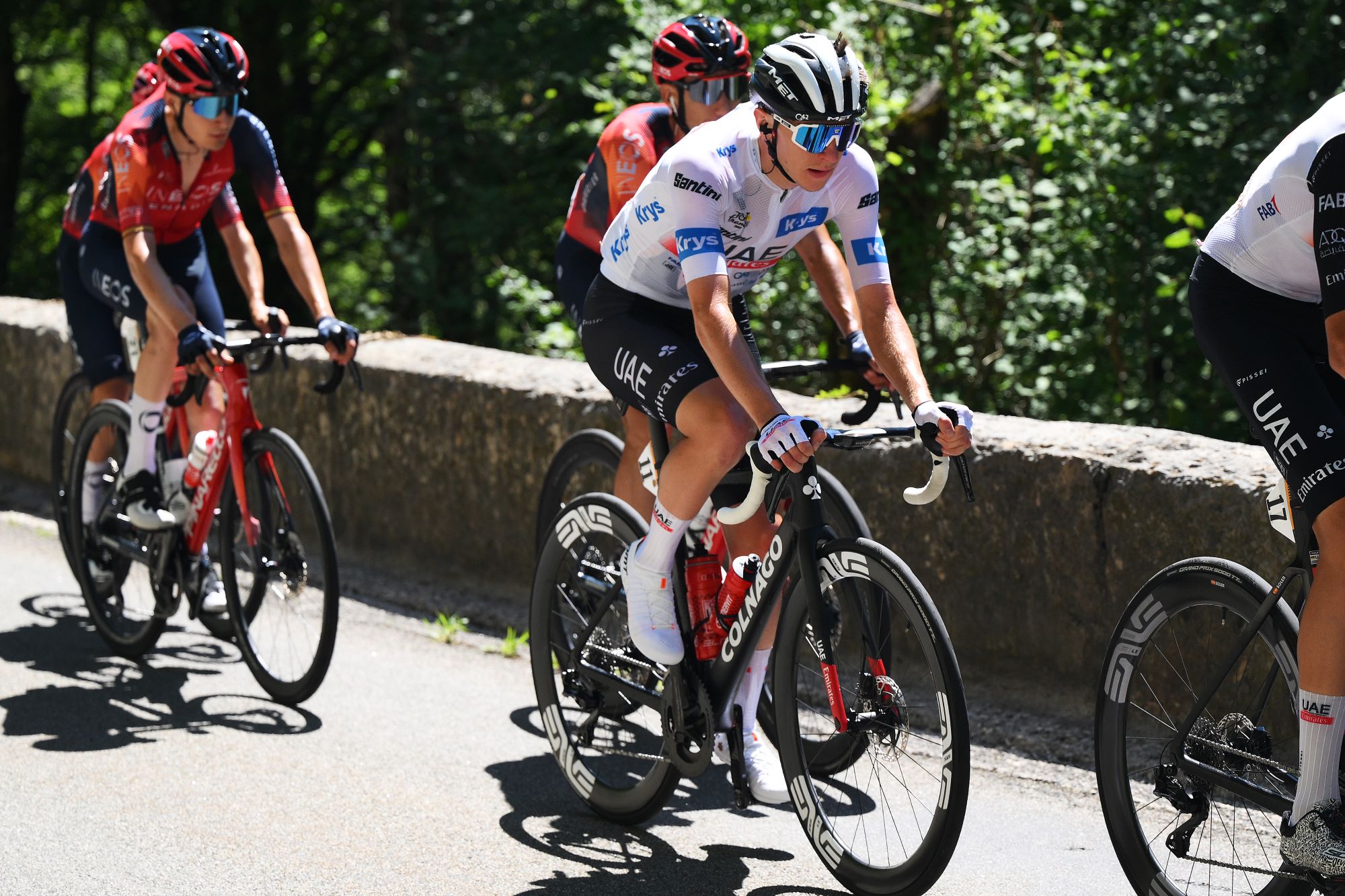 Here's Tadej Pogačar looking ominous in the main bunch.
The Slovenian won here in 2020 and will almost certainly want the win and bonus seconds available today. 
42km to go: The breakaway's gap has rocketed up to nearly three minutes now.
It seems that despite the work of Trentin and the other UAE rider, who looks like Stake Laengen, the breakaway definitely have other ideas.
It's Mohoric leading the charge once again.
43km to go: Oh no! Ben Turner from Ineos Grenadiers is still right out the back of the bunch and seriously struggling.
Caleb Ewan is out there too.
Apparently Turner has stomach issues and is really feeling it today.
Let's hope he feels better soon. 
So it was Teunissen who took the maximum points at the intermediate sprint ahead of Mohorič. 
47km to go: It looks like Petit is done in the breakaway… he's been left behind after that sprint and is hanging on for dear life.
I expect the peloton will have caught him within the next few minutes.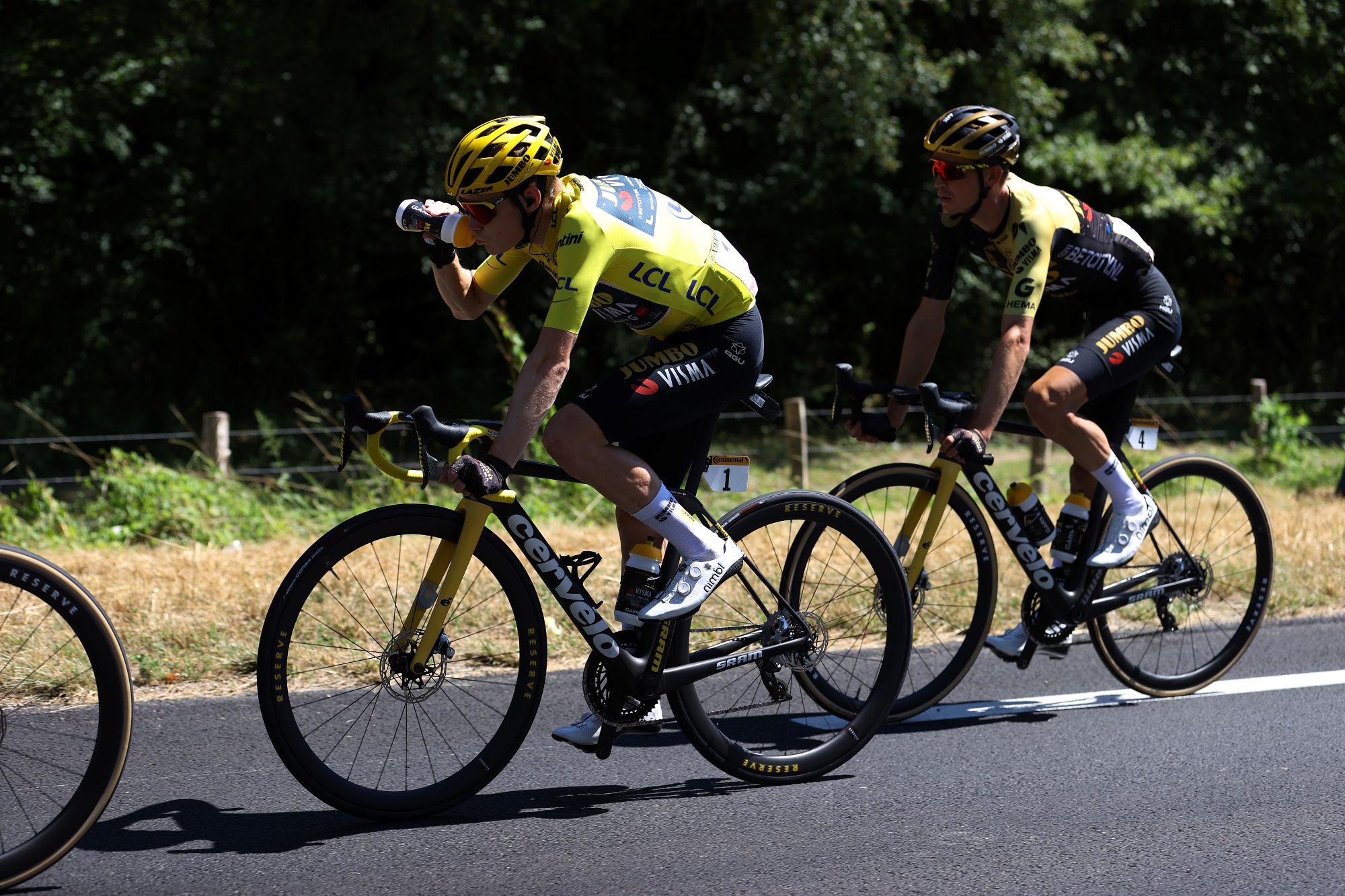 Here's the maillot jaune taking a drink as the peloton chase the breakaway.
UAE are still driving the pace through Matteo Trentin. 
50km to go: Zimmerman has just taken maximum points at the intermediate sprint…. Mohoric has gone over the top of the Intermarche rider and is pushing on.
You've got to take your hat off to the Bahrain rider. He was right up there last Sunday on the Puy de Dôme and is giving it everything again today to extend the breakaway's gap.
54km to go: The breakaway has 1-56 to the peloton being led by UAE and Bora.
We've still got plenty of ground to cover before the Grand Colombier starts. It's difficult to imagine them making it all the way this afternoon.
Matej Mohoric is visibly trying to break the group up into two smaller ones, but James Shaw and Asgreen are having none of it. 
Right! Tom Thewlis here, back and ready to take you through to the line. 
55km to go: The race is now on the climb up to the sprint at Hauteville-Lompines, which is by the looks of things a proper climb in itself that could easily merit categorisation.
Had the breakaway not been out front (it's at 2.04 now), I couldn't see many pure sprinters being at the front to contest the sprint.
One thing is certain: UAE Team Emirates is expending an awful lot more energy on this stage than its main rival Jumbo-Visma. What difference might that make when the race reaches the Grand Colombier?
"Sometimes it's good not to know what's coming so you're not afraid," says Simon Yates, referring to the fact that he has never ridden the Grand Colombier before.
"I know it's supposed to be quite hard," he says.
"For sure there'll be a selection," he says of the GC battle. "But maybe not as big [gaps] as some guys are expecting," he adds, pointing out that the stage overall is not so demanding and there are more mountains to think about in the coming days.
70km to go: The break is still at 1.47, with UAE Team Emirates riding purposefully at the front. In fact the peloton is near-lined out, with UAE trailed by Bora-Hansgrohe, Ineos Grenadiers and Jumbo-Visma.
There's still a long way to go until they start climbing the Grand Colombier though, not far off 60km.
76km to go: Intermarché-Circus-Wanty calling upon their sprinter Biniam Girmay to help his team-mate Louis Meintjes move up in the peloton. 
James Shrubsall with you now, taking over while Tom takes a break.
82km to go: Bora-Hansgrohe lined out and sitting on the wheels of UAE right now. Jai Hindley looking very calm at the back of the line. This will be a big day for him, too.
99km to go: UAE are riding hard on the front of the main field here.
Looks like they don't want to allow the breakaway to have too much of an advantage when the Colombier arrives.
Tadej Pogačar must be feeling really good today. There's no denying that this stage suits him to perfection. 
108km to go:
Here's the breakaway in full:
Michal Kwiatkowski (Ineos Grenadiers)
Quentin Pacher (Groupama-FDJ)
Alberto Bettiol and James Shaw (EF Education-EasyPost)
Kasper Asgreen (Soudal Quick-Step)
Matej Mohoric and Fred Wright (Bahrain Victorious)
Jasper Stuyven (Lidl-Trek)
Adrien Petit ,Mike Teunissen and Georg Zimmerman  (Intermarche-Circus-Wanty)
Nelson Oliveira (Movistar)
Hugo Houle (Israel-Premier Tech)
Luca Mozzatto (Arkea-Samsic)
Pascal Eenkhorn and Max van Gils (Lotto-Dstny)
Cees Bol and Harold Tejada (Astana Qazaqstan)
Anthon Charmig (Uno-X)
Pierre Latour (TotalEnergies)
They've got about 1-21 over the peloton being led by UAE Emirates at the moment.


109km to go: Alright this is definitely it!
I'll have a full list of the riders in the break in just a moment.
They've got 28 seconds on the peloton and it's rapidly rising. 
112km to go: Those guys have now been caught by a handful of other riders as they look to push on.
There's another couple of EF riders in there, Kasper Asgreen for Quick-Step and a handful of others.
If they get some cohesion then this will be it. 
115km to go:
Another small group of riders has jumped and has got about 13 seconds over the bunch.
Nelson Oliveira (Movistar), Max van Gils (Lotto-Dstny), Quentin Pacher (Groupama-FDJ) and Mike Teunissen (Intermarche-Circus-Wanty) are there and it looks like another Ineos rider may be trying to catch them. 
116km to go: That group has now been shut down so we're back to square one yet again! 
Jonathan Castroviejo (Ineos Grenadiers) is also up the road in that group. There's a decent amount of firepower there, so they should be able to maintain and then push on a bit of a gap. 
123km to go:
That move has been sniffed out by the bunch and now it's Cavagna once again trying to get up the road!
Cavagna is absolutely determined to be in the breakaway when it eventually goes today.
Omar Fraile (Ineos Grenadiers) Fred Wright (Bahrain Victorious) and Magnus Cort (EF Education-EasyPost) have joined him.
Anthony Perez (Cofidis) is there too.
The Uno-X rider is Jonas Abrahamsen. 
125km to go:
Pierre Latour and an Uno-X rider are the next two to try and make the jump!
131km to go:
Cavagna has been brought back once more but it's EF having a go again this time.
James Shaw and Amador are the two riders to try something and they've got Jasper Philipsen of all riders with them along with Julian Alaphilippe on their wheel. 
But Cavagna has gone again! Wow… he doesn't mess about that guy. 
132km to go:
The peloton has swiftly shut that move sparked by Cavagna down.
All of the riders who had initially got up the road have been quickly brought back in. 
So the two EF riders are Bettiol and Chaves…. initially looked like James Shaw but that's definitely Alberto Bettiol. 
133km to go:
Alberto Bettiol (EF Education-EasyPost) has made it across to that front trio…. looks like Esteban Chaves has joined him as well as Biniam Girmay (Intermarché–Circus–Wanty)
134km to go:
If one man has the speed and power to break the elastic to the peloton then it's Rémi Cavagna (Soudal Quick-Step)
Cavagna has powered away from the peloton and has an Uno-X rider and a rider from TotalEnergies on his wheel. 
135km to go:
The road is completely flat for the first 50 km or so.
It's going to take some serious speed to get away at the moment. 
136km to go: Valentin Madouas (Groupama-FDJ) is right up at the head of the peloton too in his French national champions jersey. 
Here we go! Christian Prudhomme has just waved them off from the sun roof of his car!
It's Lotto-Dstny that make the first move, sending two men on the attack with Victor Campenaerts and another rider.
It actually look like it's EF Education-EasyPost's James Shaw who was straight onto that. 
Here's Julian Alaphilippe wishing everyone a happy Bastille day! 
Happy Bastille Day 🎇Bonne Fête Nationale 🇫🇷#TDF2023 pic.twitter.com/iMVFhz8abZJuly 14, 2023
See more
Andrey Amador (EF Education-EasyPost) has a flat front tire.
He's been in the breakaway twice in recent days.
EF have the King of the Mountains jersey on the shoulders of Neilson Powless. It's hard to see him up at the front contesting for the stage win today. 
It's 29 degrees out on the road today.
Warm, but arguably perfect racing conditions.
We've got 1.5 kilometres to go until they cross through kilometre 0 and the battle for the breakaway gets going. 
Nerves will be jangling throughout the peloton as they roll towards the official start.
Jonas Vingegaard holds the yellow jersey, but by literally just 17 seconds.
Jumbo-Visma will almost certainly have to do something today if they want to keep Vingegaard in yellow and extend that lead over Tadej Pogačar. 
Right! We're off!
The riders have just rolled out for the neutralised section which will last for four kilometres.
Once Christian Prudhomme waves the flag for the official start, expect to see multiple French riders battling to get in the day's breakaway.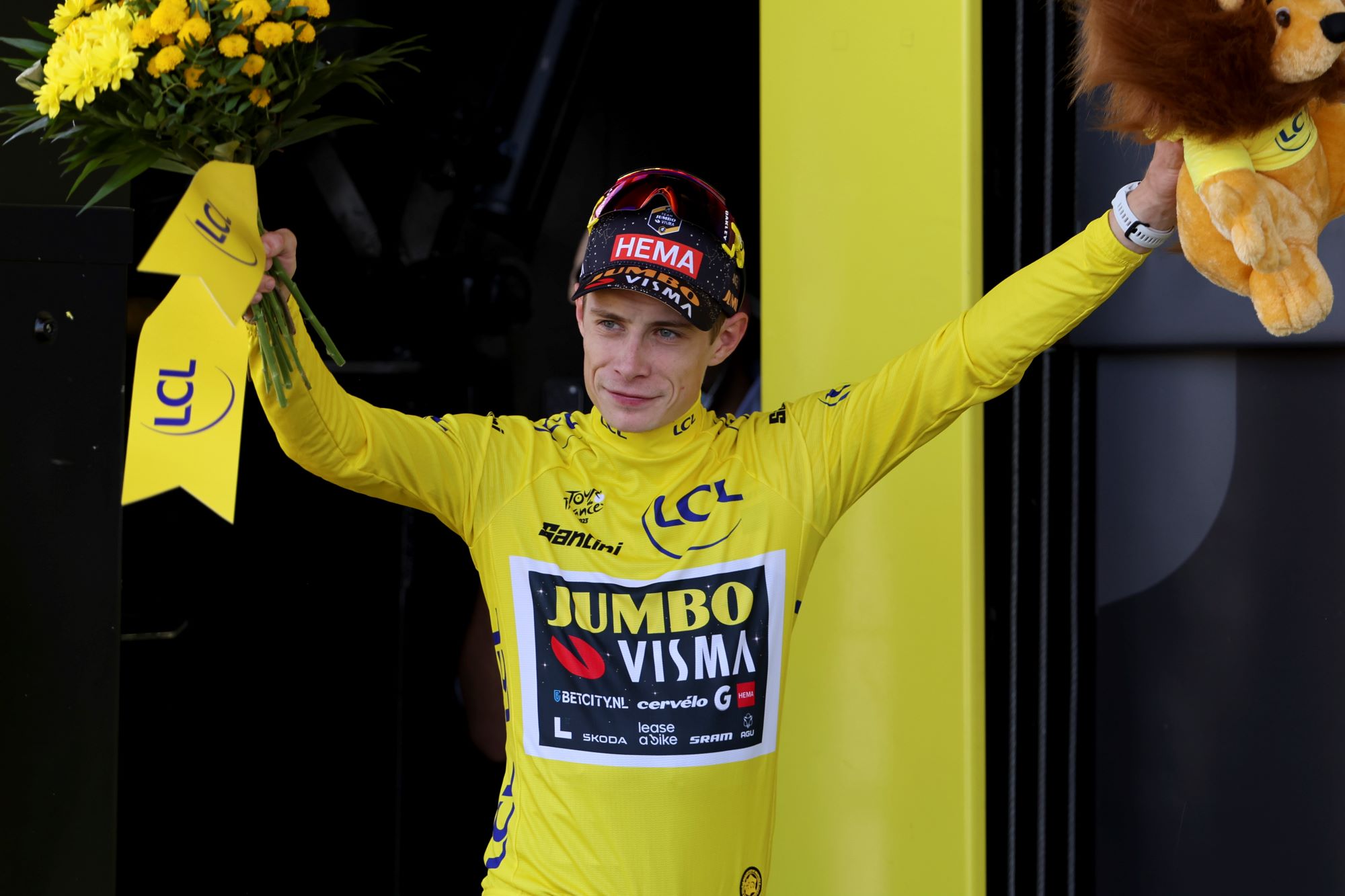 We're just moments away from the neutralised start in Châtillon-sur-Chalaronne.
Here's a reminder of how things stand in the general classification going in to today.
1. Jonas Vingegaard (Den) Jumbo-Visma, in 50-30-23
2. Tadej Pogačar (Slo) UAE Team Emirates, at 17s
3. Jai Hindley (Aus) Bora-Hansgrohe, at 2-40
4. Carlos Rodríguez (Esp) Ineos Grenadiers, at 4-22
5. Pello Bilbao (Esp) Bahrain Victorious, at 4-34
6. Adam Yates (GBr) UAE Team Emirates, at 4-39
7. Simon Yates (GBr) Jayco AlUla, at 4-44
8. Tom Pidcock (GBr) Ineos Grenadiers, at 5-26
9. David Gaudu (Fra) Groupama-FDJ, at 6-01
10. Thibaut Pinot (Fra) Groupama-FDJ, at 6-33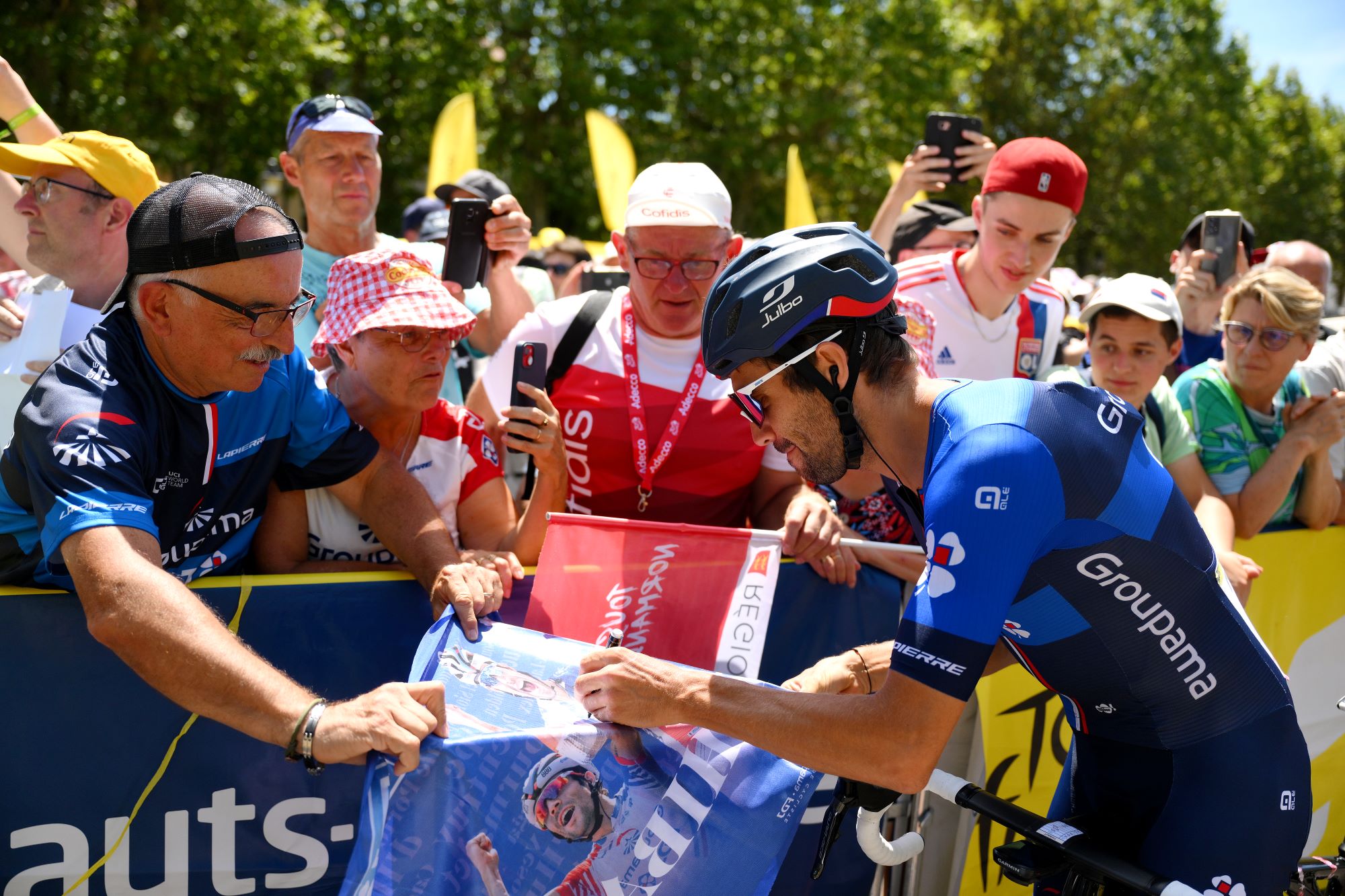 Here's Thibaut Pinot signing a few autographs at the rider sign on this morning.
France will go absolutely crazy if he somehow pulls off a stage win today.
My colleague, Tom Davidson, wrote this beautiful piece about Pinot earlier this season. 
Tour de France stage 13 – Châtillon-sur-Chalaronne > Grand Colombier 137.8 kilometres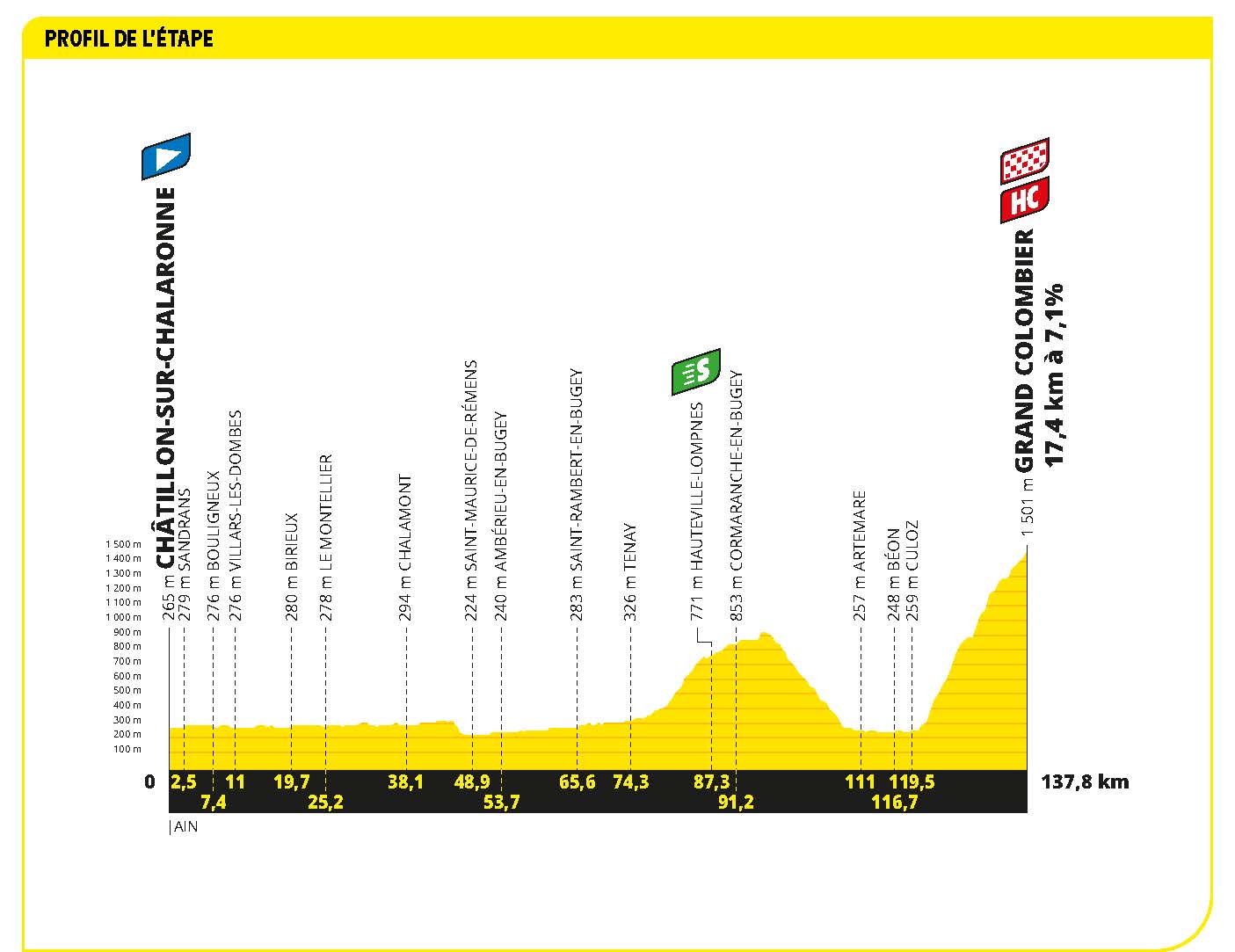 Before the racing gets underway shortly, let's take a closer look at the parcours for stage 13.
The riders should be relatively untroubled on the 137.8 kilometre route before they reach the base of the final hors categorie climb.
It's relatively flat before the road goes uphill on an unclassified climb where the riders will take on the intermediate sprint at Hauteville-Lompnes.
Afterwards its downhill into the valley as they head for the base of the Colombier which will start after about 119 kilometres of racing.
It will almost certainly be a day for the general classification riders. Expect to see Tadej Pogačar and Jonas Vingegaard going at each other after a relatively quiet day on the GC front yesterday. 
Bastille day on the Grand Colombier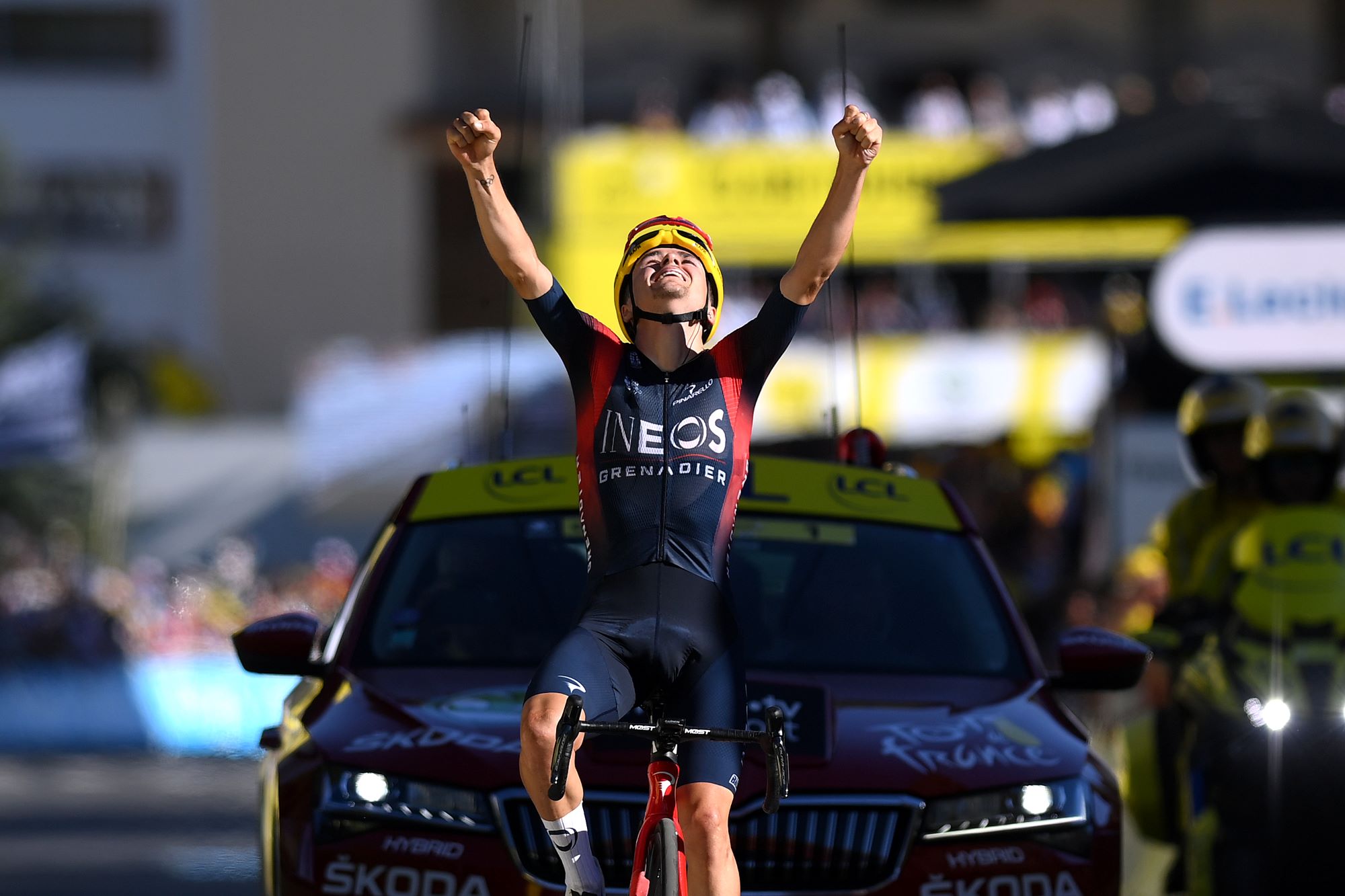 It's Bastille day in France, so expect to see thousands of French fans on the roadside cheering for Thibaut Pinot, Romain Bardet and co later today.
Tom Pidcock won on Alpe d'Huez on Bastille day last year. Will a British rider match his achievements in 2022 on the Colombier?